Alan Gerber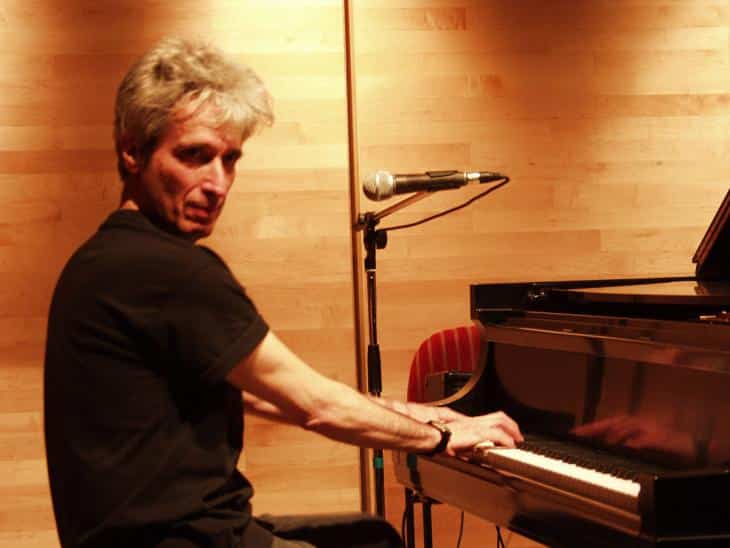 September 17, 2013 @
The Waverley Hotel
He literally explodes from the very start with all the musical colors that Blues-Funk has in its paint box…. Alan Gerber is a 'not to be missed' musical dynamo!
Alan Gerber's career spans more than 40 years, and is rich in modern music history. At the age of 15 he won a songwriting contest and had two original songs recorded at the legendary Chess Studio. On the day he went in to record, the studio was being painted – by recording artist Chuck Berry.  "That was a real life lesson in the fickle nature of the music business," Gerber says wryly.
Lured from university in 1965 by producer Paul Rothchild (The Doors, Paul Butterfield, Janis Joplin), Alan became singer, songwriter and keyboardist for the super-group Rhinoceros. With the release of two albums, Rhinoceros toured North America with such names as Janis Joplin, BB King, Jefferson Airplane, Traffic, Jimi Hendrix, Steppenwolf, John Lee Hooker, Jeff Beck and others. Home for Alan was the famed Chelsea Hotel, with Andy Warhol and Janis Joplin as his fellow tenants.
Alan left Rhinoceros, and released his first solo effort in 1971 and toured with Leon Russell. Gerber placed two songs on the soundtrack of Bob Dylan's movie "Renaldo and Clara", performed at Bob Dylan's Rolling Thunder Revue and played with Lou Reed in the United States.
For several years Alan lived in France and toured with his All Star American Blues Review before coming to settle in Quebec.
In 1994, he produced and released "Chicken Walk". He followed that up with "Fools That Try" in 1997 and "The Boogie Man" in 1999. When demand for a live CD began to surface, Alan took the studio on the road and produced "Alan Gerber Live" in 2002.  In 2005 he released the critically acclaimed "Blue Tube".
Alan's show is grounded in the blues, but it's so much more. He throws in Appalachian style fiddling, some rip-it-up slide guitar, gospel boogie woogie on the piano, and more.
Alan has played such major events as The Montreal Jazz Festival, Ottawa Blues Festival, Fort Lauderdale Blues Festival, Toronto HarbourFront Blues, Carcassonne Music Festival & many more. He currently tours Canada, the U.S and Europe on the blues & jazz festival circuit.
Come early and enjoy some of our delicious entrees from the Waverley kitchen and enjoy the show!
http://alangerber.org/story