Alice Francis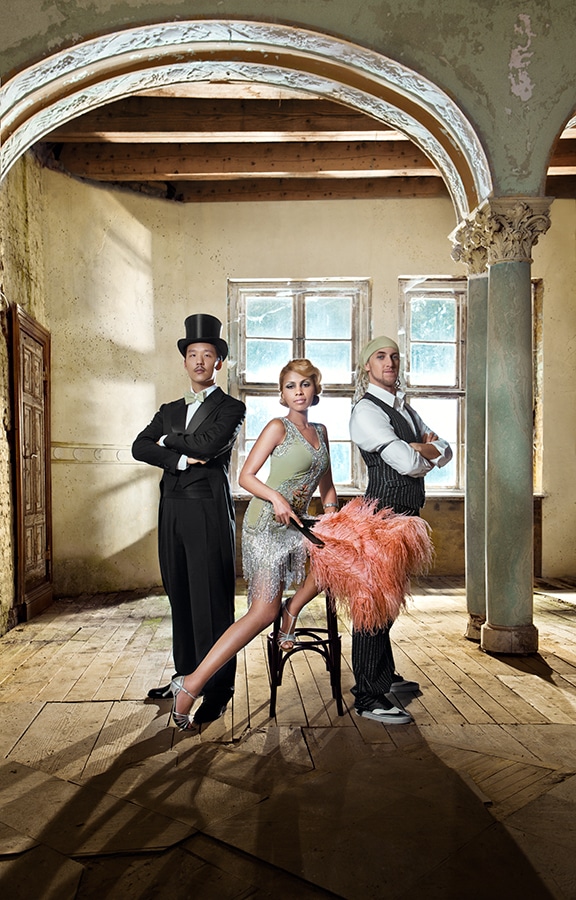 June 18, 2016 @
The Waverley Hotel
Direct from Berlin the Alice Francis trio returns to the Canadian Westcoast for a limited number of engagements. With support from the Vancouver Island swing dance community, we anticipate some serious moves on the the new Waverley dance floor. Flips and dips, anyone?
Alice Francis and Goldielocks stage an extraordinary live show. While front woman Francis looks after the song and dance and Sir Chulmin-Yoo simulates a background chorus with a harmonizer, Goldielocks – equipped with Ableton Live and a Novation Launchpad – functions as a one-man big band. Those fortunate enough to have seen Miss Flapperty and Co live in concert can be numbered in the thousands: at least 15,000, to be precise, who came to swing along at Berlin's Swing Open Air at the former Tempelhof airport. And Alice Francis rocked, no, swung every single soul. All these highly diverse influences derived from pop, hip hop, electro and Latino, incorporating anything and everything that is compatible with the Twenties aesthetic, are held together by Goldielocks's limpid sound design and the inimitably versatile voice of Alice Francis. No-one is a better judge of how true to the times Alice Francis is with her version of neo-Charleston than Parov Stelar. As DJ and producer, he is far and away the most influential protagonist of the neo-swing genre. The fact that this man, who knows the scene inside out and can be considered its public face, was not just thrilled by Alice but offered his collaboration on a remix for the first single "Shoot Him Down!"
Special guest Daniel Trump: Bringing you the old and mixed with new..West Coast Swing cat Daniel Trump, wishes to take you on a journey back in time. When the music was classy, sassy and full of brass….With over 10 years experience. Dabbling in various styles of music that moves his soul..You'll be sure to have a chord stuck within yours. Drawing upon the electro-swing that accentuates many layers and textures. Combined with high energy, Inspirational vocals, and a dash of debonair. There's sure to be a zoot suit riot. Sharing this amazing sound with crowds at Electro Swing Club Vancouver, various locations in Victoria, Saltspring Island, Kelowna and the summer festival Entheos.
Special guest Mt. Eliah: Multi-tempo, multi-genre DJ performances fuse much of the world's most passionate, pleasing, cultural music with the best of underground electronica's dance beats. Skillfully blending 4/4 dance tempos you can sleep to or sweat to. Gypsy, Latin and African influences, stir that up with a generous helping of conscious reggae, reggaton, dancehall, cumbia and other bass-heavy, mid-tempo beats, for a feast of extremely fun, danceable music.
alicefrancis.com