Ash Grunwald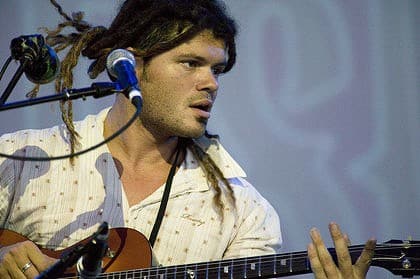 August 24, 2013 @
The Waverley Hotel
Explosive and rhythmic, Ash Grunwald delivers live performances that blend genres that range from traditional to contemporary and beyond.
Ash Grunwald put together his first album, 'Introducing Ash Grunwald', leaning heavily on traditional blues but it was his second album 'I Don't Believe,' released in April of 2004, that would change his state of play. It was his first album – of many to come – to graft technology onto the deeply rooted foliage of the Delta swamp.​
​ Blistering live sets on the festival circuit throughout Australia, Japan, Canada, America, Europe and the UK, have had critics and fans raving about his unique blend of roots, blues, beats and a whole lotta groove for now, more than a decade. Nominated five times for Australia's ARIA Awards, and a swag of award wins including MBAS Blues Performer of the Year 2003 and the AIR Best Independent Blues and Roots Album, and in 2009, taking out a prestigious APRA songwriting award for Blues & Roots Song of the Year.​
His album of 2010, Hot Mama Vibes, was nominated for Best Blues & Roots album by both the Australian Record Industry Association and Australian Independent Record Label Association, and after a sold out national Australian tour, he capped off 2010 supporting Jack Johnson's Australian tour. His first single from the album, 'Walking' received significant radio airplay, and was prominently featured in the Hollywood blockbuster, 'Limitless' starring Robert De Niro and Bradley Cooper.
Ash has continued to sell out venues in Canada, Europe and the U.S. maintaining a wide ranging fanbase across the globe.
https://www.facebook.com/AshGrunwald