Atmosphere Gathering – 3 Days August 19-21, 2016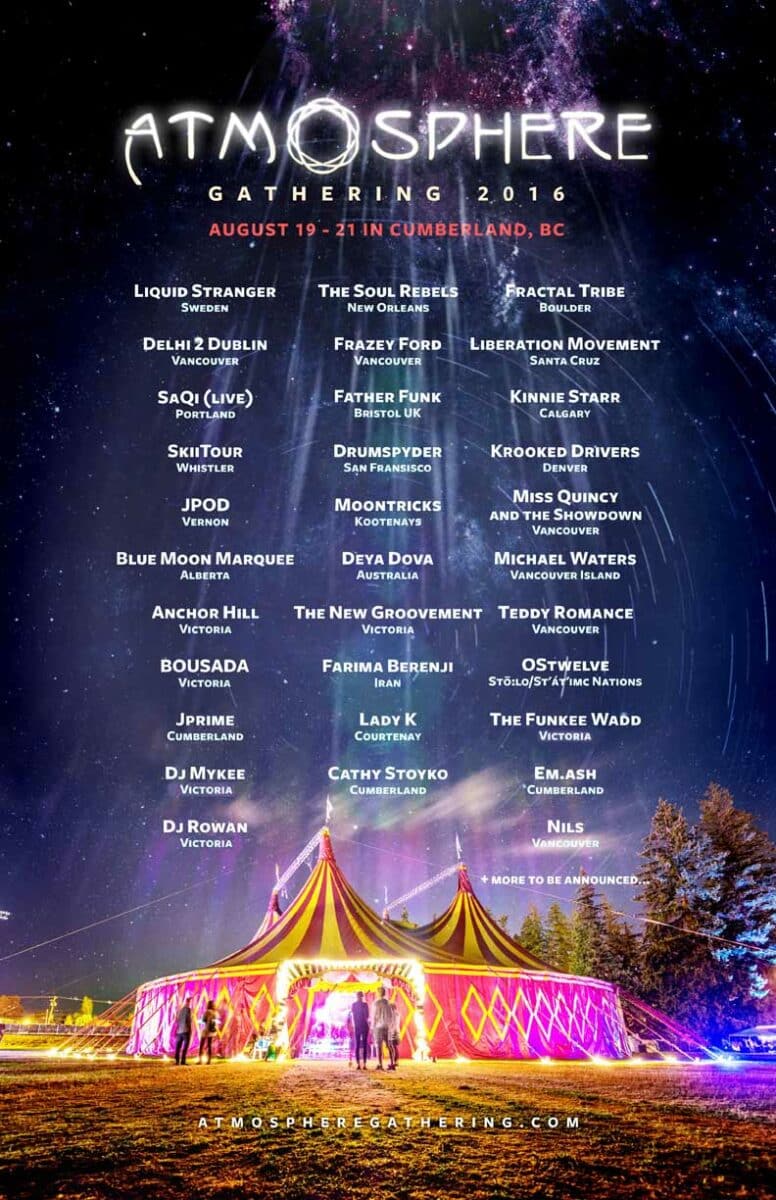 August 15, 2014 @
Cumberland, BC
An elemental collage of art, music, dance and community celebration in Cumberland Village Park.
Atmosphere Gathering is proudly returning to our Village of Cumberland for a third year of immersive experiences.  The community is a huge part of this gathering, providing a wonderful backdrop to our offerings of live and electronic elements to manifest an exciting multi-sensory extravaganza.
The unique world-class lineup of performers including The Soul Rebels, Liquid Stranger, Delhi 2 Dublin, Fractal Tribe, Frazey Ford, Drumspyder, Kinnie Starr, saQi(live), and so many more.
Set on the edge of a forest, this family-friendly event brings together music, art and dancing for a glorious 3-day escape. Featuring three stages including an authentic Italian circus tent, a elixir temple in the forest, a workshop Tipi, on-site tent camping, and local-focused food… all within a two minute walk of excellent restaurants, pubs, shopping and a short drive to a glacier-fed lake and the entire Comox Valley.
An intentionally intimate event, this year there will be 1500 tickets available. Early bird and first tier tickets are sold out, and the second tier is now on sale. Click here to get your tickets now.
Visit the AtmosphereGathering.Com for complete lineup and updated details.  Join us on Facebook for continuous updates and special announcements.
https://www.facebook.com/events/785015298191865/