Blackberry Wood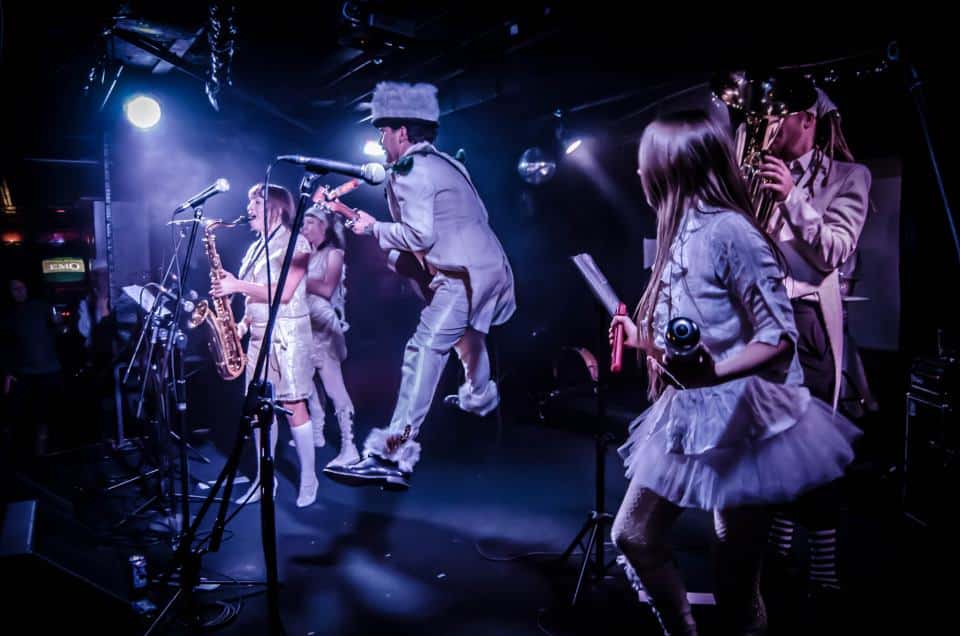 May 3, 2013 @
The Waverley Hotel
Blackberry Wood is back with their latest album "Strong Man vs. Russian Bears"!
Blackberry Wood: For those that are familiar with East-Vancouverites Blackberry Wood, "average" is not a word that could come in to play. And for those that know the band's origins, its unique flavours, drawn from multiple continents as well as a list of players long enough to compete with any orchestra, seem a perfectly natural bi-product of what is, quite honestly, a perplexing and unique success story. In its 7-year-lifespan, the band has evolved from two piece jam session with lead singer Kris Wood and partner Corinne CoCo, into a thriving 9-piece community orchestra with their own night at Café Du Soliel and an impressive tour schedule, into a 4 piece vaudevillian punk operation that boasts almost 200 shows a year throughout Canada and the UK. And one only has to listen to several selected tracks from band's 3 albums to see the effect this has had on their music.
The band has released 3 albums to date: self-titled album Blackberry Wood, released in 2007, is a light-hearted yet chilling tribute to lead singer Kris Wood's roots in hip hop as well as country, featuring titles such as The Stranger, a spaghetti-western epic, and a charming cover of Grandmaster Flashes The Message. Next, we have Travelling Horse Opry, released in 2010. This album captures all the beauty a gypsy-circus caravan has to offer, complete with haunting melodies played by a trumpet, two saxophones and plenty of accordion The band's latest album, Strong Man vs. Russian Bears, is the band's tribute to the raw and rambunctious energy of their live show and features tuba, accordion, trumpet, saxophone, ukulele, drums, and even a little organ here and there.
The band's impressive tour schedule is also an important element to the development of their sound. Boasting over 200 shows a year, one would be hard pressed to find a week where Blackberry Wood isn't playing. They have graced stages at the world famous Glastonbury Festival in London, England, in 2009, 2010, and are returning this year for 2012. They have played in countless cities across British Columbia, Alberta, Saskatchewan and the Yukon Territory and have plans to visit the Northwest Territories as soon as they can. "We love visiting new places" says saxophone player Jen Charters. "The problem is, we love it so much, we're running out of new places that we can reach. The drives just keep getting longer and longer. But hey, its totally worth it."
The band's latest set up, which features Kris Wood on lead guitar and vox, Jennifer Charters on saxophones and Ryan Trigg on drums as well as a myriad crazy characters they recrute, is a concentrated, high energy concoction that pays tribute to the band's entire musical heritage. Alternative, folk, gypsy, circus, old-country, vaudeville, or whatever you like to call it, the band is sure to get you up and at 'em faster than you can say "dance-off"
Check out this great video for their song Rumble Rag: http://www.youtube.com/watch?v=z8ynHuLMdT4
https://www.facebook.com/blackberrywood