Brunch with Bruce & Judy Wing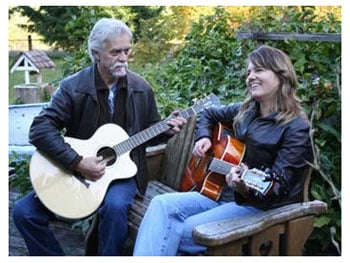 January 18, 2015 @
The Waverley Hotel
Join us for a musical Sunday Brunch.
Judy has been making up songs for as long as she can remember, and gradually learned to articulate the more complicated landscapes of life, love and ambivalence. A love for harmony has always attracted her to choral singing, small ensembles, and duets with content ranging from the classical to the comedic. She enjoys the gratifying exchange between her audiences, fellow performers and the music. Her early musical influences included teen favorites Carole King, Carly Simon, and Christine McVie, however her inspirations have always been found closer to home in fellow musicians, songwriters and performers.
Bruce is well known among Vancouver Island music circles as a supportive sideman with an energizing percussive playing style and playful wit. Like his prairie roots, Bruce's approach to music is uncomplicated and neighborly- a grassroots way of meeting new folks, encouraging harmonious relationships, and inspiring new music all at the same time. Bruce and Judy co-write many of their songs, skillfully merging his creative instrumental arrangements with her melodic leanings and poetic lyrics.
judyandbruce.com