Crikey Mor and Sets in the West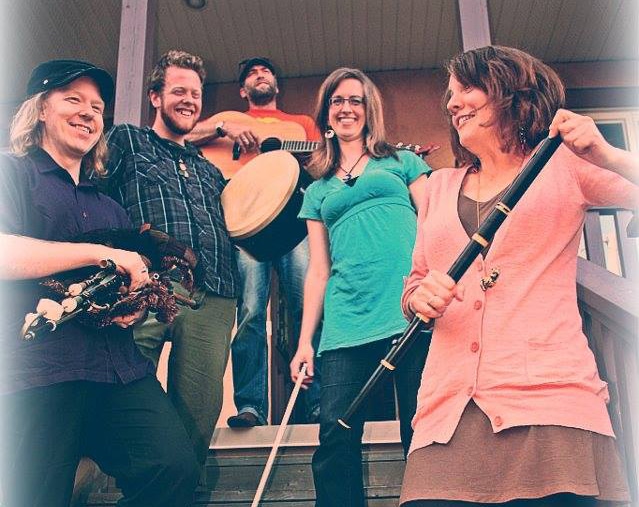 June 7, 2014 @
The Waverley Hotel
Raise a glass and raise some hell…these guys are here to play!
Crikey Mor
Crikey Mor is a five piece Irish Trad band of awesomeness. Brought together by a shared love of Irish traditional music, Crikey Mor started out as a group of musicians getting together and playing Irish tunes every week at a local pub. The session caught the attention of music-lovers who wanted more, so some of the core members of the session decided to band together and bring this awesome music to the stage. Crikey Mor consists of Nancy Grossert on fiddle, Tasia MacKay on flute, Eric Reiswig on uilleann pipes, Jeremy Walsh on guitar, Andrew Morris on bodhran, and all on vocals—and hopefully a bunch of wild dancers in the audience.
Crikey Mor has since been performing in Victoria and all around Vancouver Island, including the Victoria Highland Games festival, Folkwest, Read Island Beach Fest, and even bringing their foot-stomping music north to the small Malcom Island town of Sointula, BC. Crikey Mor recently took part in CelticFest Vancouver 2014 in celebration of St. Paddy's Day, performing four shows over the course of the festival.
Sets in the West
This ain't your Fathers folk band, these guys rip roar through songs you probably know but play them with a Rowdy edge that reeks of last weeks kitchen party. Speaking of party…a typical Sets in the West show has enough "Sociables" and Irish Toasts flying around to keep you going until long after the last note is played! Raise a glass and raise some hell…these boys are here to play!
http://setsinthewest.ca/