D.O.A. – No Pipelines Tour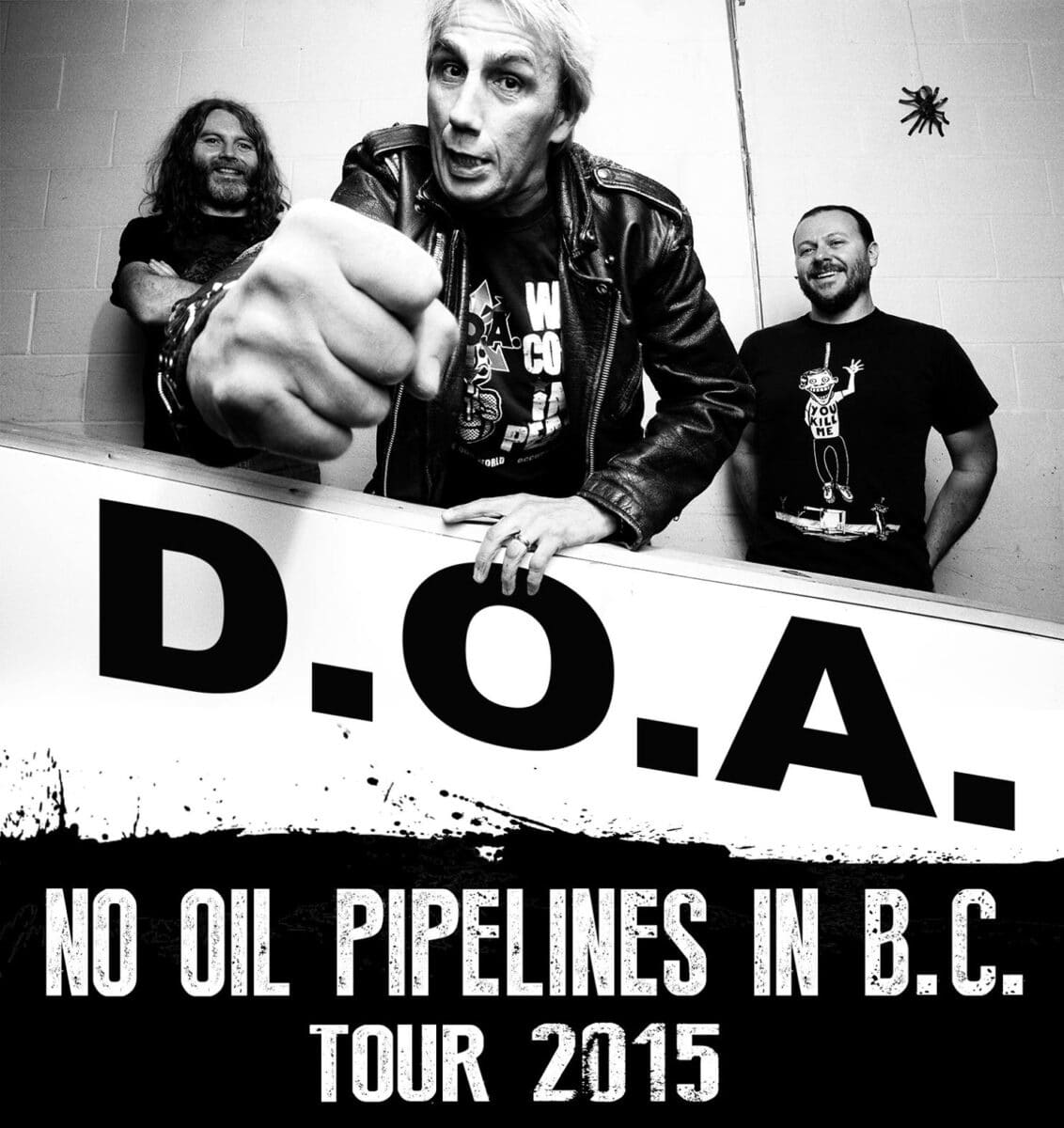 February 6, 2015 @
The Waverley Hotel
Joe Keithley and D.O.A. organize benefit show to fight Kinder Morgan Pipeline Expansion. With special guests The Stiltskins.
D.O.A., Canada's most politically astute, controversial and always wildly entertaining band is back. The godfather of hardcore Joe Shithead Keithley, had announced his retirement back in 2012 to take a run at formal politics in his native British Columbia. That is out the window and D.O.A. is all set to come back with a vengeance. As Joe recently said "When I lost my nomination by five votes, I was pissed. But I soon realized that I had not forgotten how to write songs, how to sing and play guitar and how to kick ass up on stage! So I am ramping up D.O.A. again and we're going to let our street politics tell the stories about what's really happening!"
D.O.A., Canada's protest band (in an unofficial and a Hell Yeah! official sort of way) will tour their beloved home province of British Columbia January 30th to February 7th. This will be in aid of the band's No Oil Pipelines in B.C. Tour. In an effort to raise public awareness about this critical issue, D.O.A. will debut one of their new songs "Pipeline Fever" and will play Vancouver, Abbotsford, Victoria, Nanaimo and Cumberland B.C., unless circumstance or the RCMP stop them first.
Joe Keithley founder of legendary punk band D.O.A. and lifetime activist, along with his band mates Paddy Duddy and Mike Hodsall, have joined in the fight to try and stop the expansion of the Kinder Morgan oil pipeline and the quadrupling of tanker traffic in Vancouver's Burrard Inlet.
The Kinder Morgan Corporation of Texas runs a pipeline from Edmonton, Alberta to its terminal in Burnaby, British Columbia and it has applied to Canada's National Energy Board to triple its capacity and if approved (which seems likely considering the rubber stamp mindset of the NEB) will greatly increase the amount of tanker traffic in Vancouver's Burrard Inlet, carrying unrefined bitumen oil. It's a dangerous move that our federal government has staked their electoral life upon.
Our federal government has made only the most token of efforts to try and speed up our transition towards renewable energy, instead preferring to get some quick cash and the environment be damned. After a recent D.O.A. tour Keithley said "While touring Germany I was stunned by the amount of wind turbines and solar panels in use that are providing renewable energy, especially when you compare Germany to Canada. We are failing a great test as a country, we should be ashamed."
"I am almost sick to the stomach when Ian Anderson (President of Kinder Morgan Canada) shows up in continuous ads trying to tell me and my fellow citizens that we will be taken care of. That's BS! I grew up on Burnaby Mountain and he doesn't know jack about that beautiful place," exclaims Keithley. "As soon as their pipeline leaks, or a tanker hits a reef, they'll be hiding behind a phalanx of lawyers and leaving the clean-up bill to the citizens of Burnaby and BC. Is that fair? The terminal will likely employ about 30-40 people and the shipping will be done by under insured tankers registered in Liberia and other countries that don't give a damn about our coast. To approve this pipeline expansion is sad and not the least bit beneficial or financially efficient for B.C., not to mention the almost complete lack of morality and decency being displayed by Kinder Morgan in this matter."
With special guests The Stiltskins. Fast music with elements of rock, punk, metal, blues and even rockabilly.
Stiltskins have been playing now since 2004 when the boys met up in Vancouver BC and started to define their sound. Heavi
ly influenced by punk and rock 'n' roll the band have achieved a tight, fast and well groomed sound. With the recent addition of harmonica the songs now lean a little more to the rock n roll side.
suddendeath.com