Delhi 2 Dublin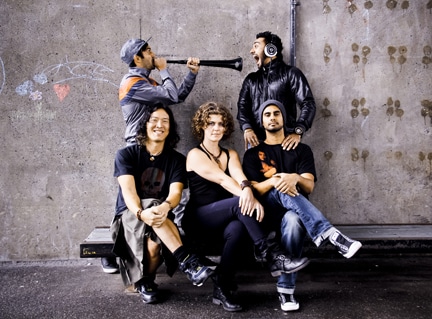 November 24, 2012 @
The Bridge Lounge, Courtenay BC
Delhi 2 Dublin are back to rip it up with their latest album "Turn Up The Stereo".
Delhi 2 Dublin challenges the definition of urban music and drags it to the intersection of Bhangra, Celtic, Dub Reggae, Rock and Electronica. The Delhi 2 Dublin crew is constantly touring. The road warriors feel that they plug directly into the world's music and energy. The strong word-of-mouth for their live performances has enabled them to build a loyal and continent wide fan base. The band has played several of the top festivals in Canada, the UK and the U.S. and, in 2011, expanded its horizons to include performances in the Pacific Rim and Europe. A new album and new international touring opportunities all signal that originality and evolution are all part of the Delhi 2 Dublin experience. Described by one magazine as the "United Nations of rock 'n' roll", they have become one of Canada's most buzzed-about bands. This year will only see them enhancing that reputation.
Turn Up The Stereo is both the title of the new Delhi 2 Dublin album and the philosophy behind the release. "Sometimes we just need to drown out the noise of the world by making the music louder", declares vocalist Sanjay Seran. Tarun Nayar, who handles electronics and plays tabla in the band, adds, "It's also a metaphor for us turning it up in many ways for this album. We spent ten times the amount of time and effort writing this album than we have in the past. We really tried to make everything better, from music and lyrics to production and artwork." The secret weapon on Turn Up The Stereo is violinist Sara Fitzpatrick. Having been in the band now for over a year, she added another dimension to the music with her violin, but almost more importantly with her voice. Her vocal harmonies add an ethereal twist to Seran's voice; a sweetness which is new to the band's studio sound.
delhi2dublin.com