Don Ross & Brooke Miller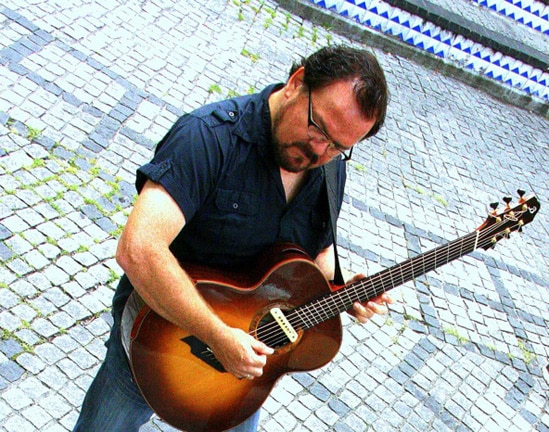 September 29, 2012 @
The Waverley Hotel, Cumberland
Don Ross is undisputedly one of the most talented acoustic guitarist presently on tour. Brooke MIller is a truly gifted singer/songwriter and the pair create an evening of unforgettable music.
In 1988, Don Ross won the U.S. National Fingerstyle Guitar Competition. This earned him a fair amount of media attention back home in Canada, and within days he was scouted to record for Toronto-based independent record label Duke Street Records. He recorded his debut for the label, Bearing Straight, which was released in 1989. Two more recordings for the label followed, 1990's Don Ross and 1993's Three Hands. Don then signed with Columbia/Sony and recorded three more CDs for that label: This Dragon Won't Sleep in 1995, Wintertide in 1996 and Loaded. Leather. Moonroof. in 1997. In the meantime, Don won the Fingerstyle competition in the USA for a second time in 1996. To this day, he is still the only player to have won the competition twice!
Signing with Narada Records in 1999, Don released his first completely solo-guitar CD, Passion Session. Recorded in a series of overnight sessions in Berlin's Passionskirche (The Church of the Passion), the CD has gone on to top many of the "all time best acoustic guitar recordings" lists in publications like Acoustic Guitar Magazine. Some of the compositions on Passion Session, such as "Michael, Michael, Michael," "Klimbim," and "Tight Trite Night" have become standards in world guitar repertoire. Huron Street (2001) and Robot Monster (2003) followed, showcasing the depth of Don's compositional history as well as his ongoing interest in electronic music, through collaborations with Berlin composer Christoph Bendel.
Don has toured regularly since 1989, across Canada, the USA, a dozen European countries, Japan, Taiwan, China, Australia, Russia and India. He has played with symphony orchestras in Canada and Germany, and collaborated live and on recording with Andy McKee, Canadian singer/guitarist Brooke Miller, & Toronto bassist Jordan O'Connor. He also composes scores for television, radio and film, and does production and recording engineering for a variety of other musicians. In addition to acoustic guitar, Don also plays electric guitar, slide dobro and lapsteel guitar, voice, piano, keyboards, bass guitar and drums.
Don grew up in Montreal, lived for many years in the Toronto area, spent the last several years in Halifax, and now is based in both Montreal and Berlin.
—————————————-
Brooke Miller's career began on Prince Edward Island, Canada, in a loud punk band as the lead guitarist & vocalist at the ripe old age of 12. She later connected with music by the likes of Bruce Cockburn, Rickie Lee Jones, The Police and Joni Mitchell. She has flourished into a road warrior, touring throughout Canada, the US, Europe and Japan. Brooke has just released her fourth CD, BROOKE MILLER, her first to be distributed nationally in Canada through DEP/Universal. It features Brooke on acoustic and electric guitars and vocals with an array of guest musicians from Toronto and Halifax.
Brooke's tunes have been heard in recent feature films (THE YEAR OF GETTING TO KNOW US, starring Sharon Stone, Lucy Liu and Jimmy Fallon), and on hit television shows (The L Word and Women's Murder Club). She won the Ontario Council of Folk Festivals' 2007 Colleen Peterson Songwriting Award.
The new album, Brooke's solo acoustic album 'Familiar' (released on CD and 12″ red vinyl, and distributed worldwide on iTunes) includes reworked versions of some of Brooke's best songs as well as new material, produced in a format ready for commercial radio. New tracks and new versions include the first single, "Cannonball," a cover version of the great song by The Blue Nile "Tinseltown in the Rain," an R&B-tinged vocal version of her tune "Shake It Off" (replete with horn section), loud versions of "Big Deal," "You've Got My Attention" and "Big Deal," and  reworkings of "What You Know," "You Can See Everything," and "What Kind of Move." Getting back to her rockier roots, Brooke has re-immersed herself into a more electric sound, while still keeping her acoustic and electric guitar playing front and centre.
Brooke and her family live in Halifax, Nova Scotia, Canada.
www.brookmiller.ca