Double Bill! Ladies of the Canyon and Old Man Luedecke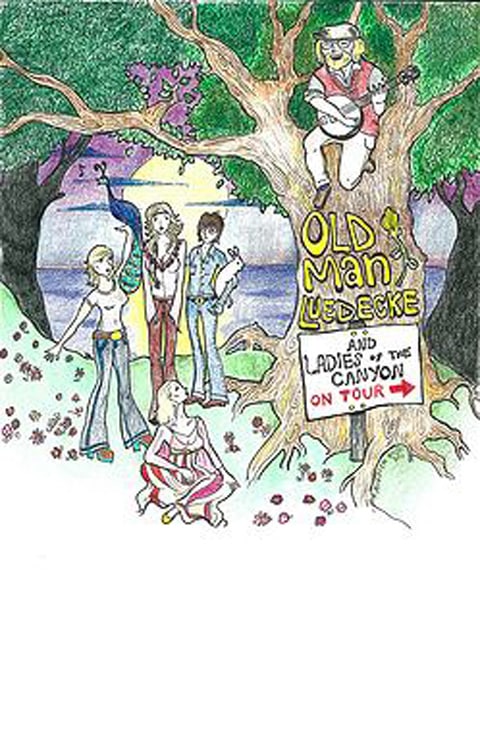 May 12, 2011 @
Joe's Garage in Courtenay
"Award winning new roots and bluegrass"
It will be a tale of joy, a tale of woe, of adventures far and wide, of new friendships and kinships discovered. 1 van, 2 bands, all killer, no filler! We're hitting the road and crossing the country with our new pal Old Man Ludecke, who not only is a consummate songwriter of inspirational proportions, but also a stunning banjo player and entertainer! And oh is he funny! We're travelling, from Toronto to the ol' Vancouver island and back, hittin' the likes of Thunder Bay, Jasper, Red Deer, Vancouver etc..you name it we're there! Come out and see our budding new musical friendship take root all across our beautiful country, we will be jammin'!
Old Man Luedecke won the 2011 Juno Award for Best Roots and Traditional Album Solo for his most recent recording, "My Hands Are On Fire and Other Love Songs".
Old Man Luedecke, is one of Canada's best loved and most intriguing roots singer-songwriters. "An original, he is a musical singularity to be savoured and shared", says the Vancouver Folk Festival. His memorable melodies, poetic sense and easy charisma appeal to anyone searching for new growth from old roots.
Old Man Luedecke was born in Toronto but has made his home for years in the music rich maritime province of Nova Scotia, on the east coast of Canada. There his music has been wholeheartedly adopted and is becoming representative for its traditional storytelling folk elements. It speaks to a new generation of people craving such meaning in their music.
Luedecke is a young man with an old soul who doesn't sugar coat his fears and this lets his songs breathe with a fresh breeze of bittersweet hopefulness. He channels a refreshing energy from folk giants like
Woody Guthrie and Pete Seeger with maybe a hint of Loudon Wainwright III. But it's Luedecke's contemporary lyrics coupled with the irresistible rhythm of the old time banjo that connect and make him so loved with his audiences. Anchored in his music's melodic confidence is an ability to tap into a common muddled and dark search for meaning. This keeps people singing his songs and praises after he's traveled on.
His performances are exciting and totally entertaining. His uncliched banjo playing sparkles beautifully and dynamically. This coupled with his thumping foot creates a complete sound. People are drawn into singing along. His singing is his own. Clear and unadorned it is totally emotive and suits the sincerity of his tunes. In the breaks between songs come wild and charming stories of meeting heroes and easygoing but gripping musings on things ridiculous and sublime that may have a wink of contemporary vaudeville.
Ladies of the Canyon are four friends who got together in their living rooms to write and sing songs influenced by their favourite bands – The Eagles, the Band and Fleetwood Mac.
Musicians and songwriters Maia Davies (vocals, guitars, mandolin, keyboards), Senja Sargeant (vocals, guitars, mandolin), Jasmine Bleile (vocals, guitars) and Anna Ruddick (electric and upright bass, vocals) have their distinct tone and personality, but when they come together for harmonies, it's a gorgeous, soaring blend.
Their debut full-length album, Haunted Woman (Kindling / Warner Music Canada) was produced by Colin Cripps. Already recognized as one of Canada's premiere guitarists, Cripps previously produced critically acclaimed albums by Kathleen Edwards and Blue Rodeo's Jim Cuddy. Through his production work, Cripps has deftly showcased the wide range Ladies of the Canyon confidently explore; both as songwriters and vocalists.
oldmanluedecke.ca
ladiesofthecanyon.com