Drumspyder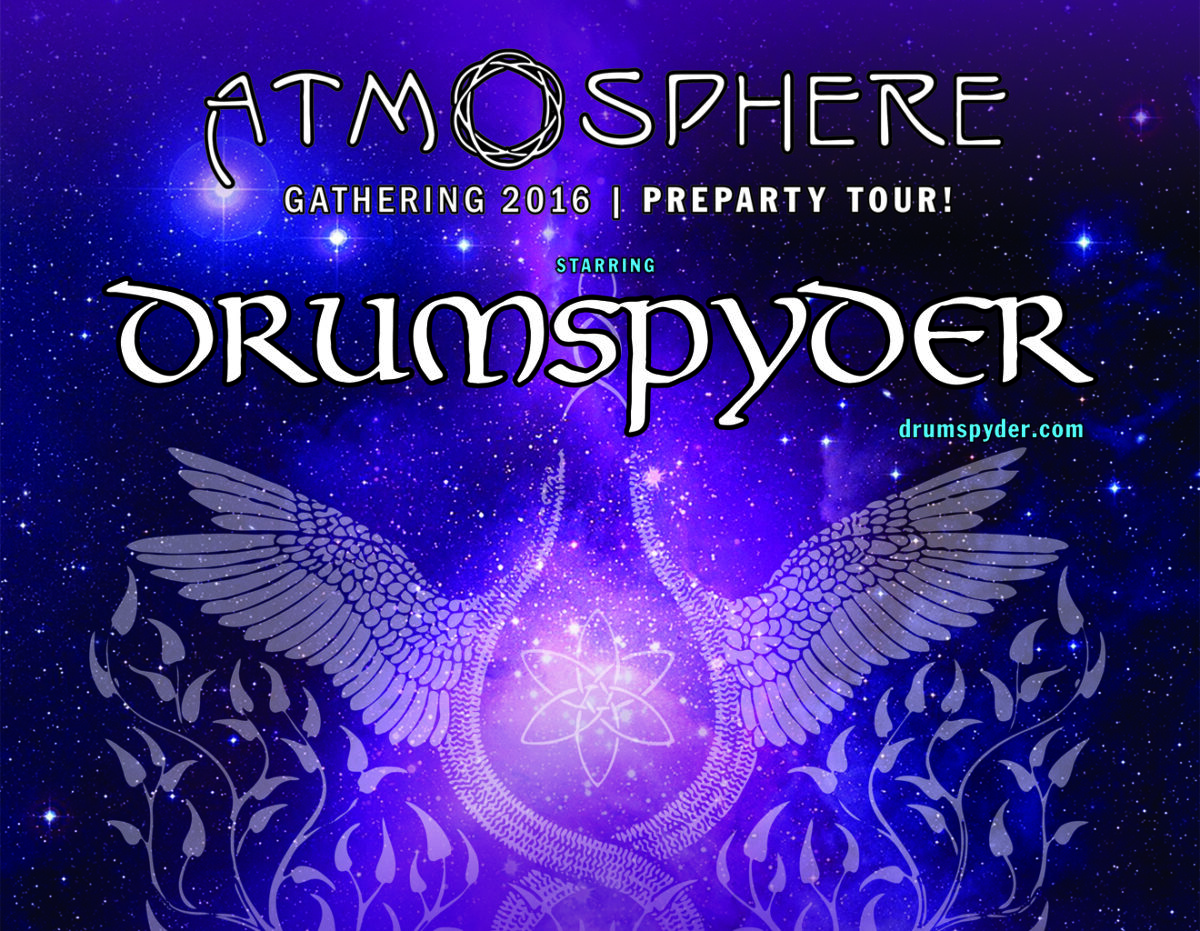 May 14, 2016 @
The Waverley Hotel
An Atmosphere Gathering 2016 PreParty Tour!
Atmosphere Gathering Presents:
Drumspyder
Scott Sterling brings a deep love of rhythm, drums, and dance to his distinctive style of bass fusion. An expert percussionist specializing in the tamborine and framedrum families, he weaves traditional rhythms and melodies into contemporary sounds into finely sculpted grooves, equally inspirational to the dancefloor and the on-stage performer. Drawing inspiration primarily from Celtic and south European modalities, his music combines energetic rhythms with a sensual pagan atmosphere.
Originating in San Francisco's crucible of bellydance, bass culture, and world music fusion, Drumspyder has come into his own as an original producer, building a substantial catalog of work on the Caravan, Dakini, and Desert Trax labels and releasing two EPs of original music in 2015. He is a prolific remixer, lending his signature live percussion and melodic touch to the Desert Dwellers, Deya Dova, David Starfire, and various traditional Arabic ensembles, with many more on the way. In addition, his music has been featured in numerous dance DVDs and theatrical productions.
2015 saw Drumspyder lighting up festival stages throughout the US and Canada, including Symbiosis, Sonic Bloom, Cascadia, Firefly, Kinnection, Astral Harvest, and many more. Recently he had the honor of playing at the Chapel of Sacred Mirrors in New York.
Nils
Nils has played headlining sets in Vancouver and throughout B.C. and has opened for the likes of Cheb i Sabbah, Nickodemus, Adham Shaikh, Gaudi, Beats Antique, Ott, Talvin Singh, David Starfire, Bluetech, Heyokah, Femi Kuti, Delhi 2 Dublin, and Oka. This diverse list should give you a sense of the range of styles Nils can represent. If there is a constant to his sets though, it is that all of them have at least some Global Beats represented.
Mt.Eliah
Born from the belly of Carrington Bay, west coast raised and west coast is where he stays. Benjamin E Howells AKA Mt Eliah is a charismatic man of the people, bent on facilitating space for freedom and expression. Co-Producer of Atmosphere Gathering, Founder of Project Intent and The Creative Network his vision spans the generations. Co-Founder/ conspirator at Little Island Productions and 1/3 of the Infamous NakedDjs Benjamin has played a central role in Music and community action in the land he loves for more then a decade, in that time has had the pleasure of opening and sharing the stage with artists such as: Beats Antique, Dubfx, Mad Professor, Dj Vadim, the skatalites, Adham shaikh, Neighbour, The Funk Hunters, Love and Light, Michael Red, The Cat Empire, Nicodemus, Westerly, Chali 2na, Gaudi, and many many more.
drumspyder.com