e.s.l.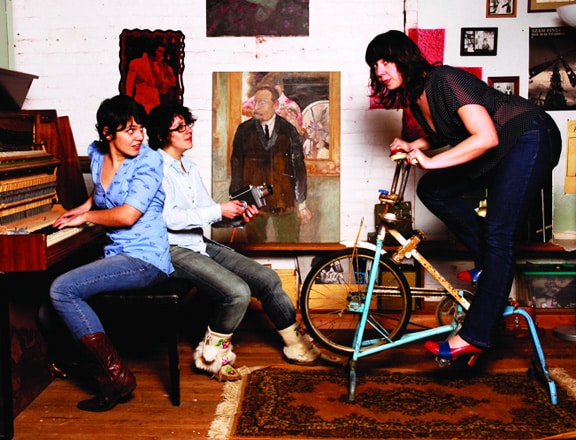 November 20, 2011 @
The Waverley Hotel
If you missed them at this year's VIMF they are back for a lovely night of sounds!
E.S.L. performs uniquely orchestrated songs inspired by everything from polish cabaret to Neil Young to the Beastie Boys and Velvet underground, to name a few. Their chemistry translates into magical live performances that range from roaring prohabition era dance numbers to heartbreaking ballads. The Vancouver-based group was formed in 2005 when Marta Jaciubek-McKeever (Polish-born pianist and singer of Girl Nobody fame) and Cris Derksen found musical kinship in each other. Joy Mullen joined on drums (The People Verses) soon after. Tess Kitchen recently joined the group and plays trumpet.
From the start, Cree/Métis artist Christa Couture established herself as a songwriter with sharp-shooting wit, effortless grace and heart-on-sleeve intensity. Her "gorgeously intimate voice [is] somewhere between the tough vulnerability of Amy Rigby and the passionate, sophisticated folk of Joni Mitchell" (Pop Matters) and her work explores intimate spaces with a frank confidence that avoids cliché and melodrama. Her sophomore album The Wedding Singer and The Undertaker hit the Top 10 on CBC Radio 3 and won "Best Folk Acoustic Album" from the Canadian Aboriginal Music Awards (2008). Couture is constantly writing and creating and often on tour across Canada.
A rising star on the Canadian classical/jazz/folk/pop/ electronica/what have you scenes, cellist Cris Derksen is known for captivating solo performances building layers of sound into often surprisingly slamming dance music. On her debut solo effort, the 13 tracks range from classically oriented, multi-tracked soundscapes ("We Danced Movement I & II") to upbeat party bumps inspired by her half-Cree ancestry ("Pow wow wow") and hybridized pieces that sound readymade for climatic moments in art or cinema.As a side player Cris has performed with hip hop star Kanye West, Veda Hille, Tanya Tagaq, Kinnie Starr, Lightening Dust (Black Mountain), Rae Spoon, Leela Gilday and Ivan e Coyote.
e.s.l. is a fusion of players who could each claim top billing anywhere else. But there's no room for egos here. Instead, we get an incomparable band that includes Polish-born pianist and singer Marta Jacubek-McKeever (Girl Nobody); noted Cree cellist Cris Derksen; fiddler Diona Davies (Po'Girl, Carolyn Mark, Be Good Tanyas) and drummer Joy Mullen (The People Verses, The Doers, Greg MacPherson). Separately, their credentials are impressive, together, they're divine.
'eye contact' is the stirring debut CD from Vancouver's e.s.l. – one of those magic projects conceived in the musical chemistry among firstclass artists. A wealth of chops and inspiration come together here, bringing ideas from all over and bending them into an album that ranges across the emotional map. From lavish to swinging, the songs are a gypsy blend that is at times playful and at others heartrending.
eslband.com