Idlers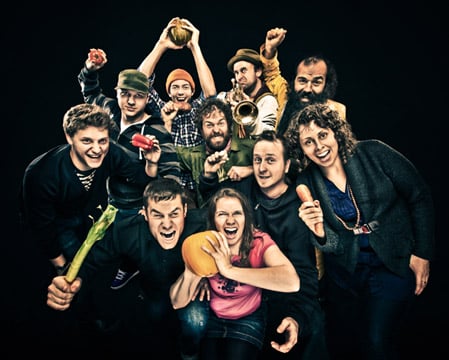 February 27, 2011 @
The Waverley Hotel
From their seaside hometown of St. John's, Idlers have been loading and unloading the great green pickle-van to bring their foot moving skank and polit-reggae-ska-rock to cities and towns from coast to coast and everywhere in between. With anything from a 7-piece onslaught of sound to a cozy and groovy 11, Idlers conscious sound has earned the group fantastic reviews of their live shows, 2007 release Corner, and their latest release, Keep Out.
Idlers are full tilt-energy. Part dance, part world music and truly indie, Idlers have defined their presence on stage and in the studio through overflowing energy and social-consciousness. Idlers show is a genre-bending musical carnival, moving from town to town, bringing joy to crowds' feet.
Keep Out is Idlers' second studio project. Recorded with Darryl Jenifer in New York, it gave the band a chance to draw on their founding as a roots-reggae group. The result is a "hard-hitting" collection of 11 songs, ideal for parties, backyard Margaritas, BBQ's, road trips, and clubs the world over. You can hear, and of course, buy, both Keep Out and their debut release Corner on the SHOP page..
Oodles of sweat-fuelled shows, long nights of rehearsal and an amazing team of performers, writers and arrangers have led Idlers to bring home numerous awards and accolades from across the country. Four years running, Idlers are the "Best Band to Dance To" on St. John's famed George St.
Idlers will be driving across the country again from February to April this winter. Over 60 days of dancing with friends across the country is an exciting prospect. Idlers are presenting a whole new show for this tour.
"Training for this tour is all about refining our presentation. The show that we're taking on the road is groovier, harder hitting and more engaging than anything we've presented in the past," says sax player Chris Harnett.
http://www.myspace.com/theidlersmusic