Jimmy Bowskill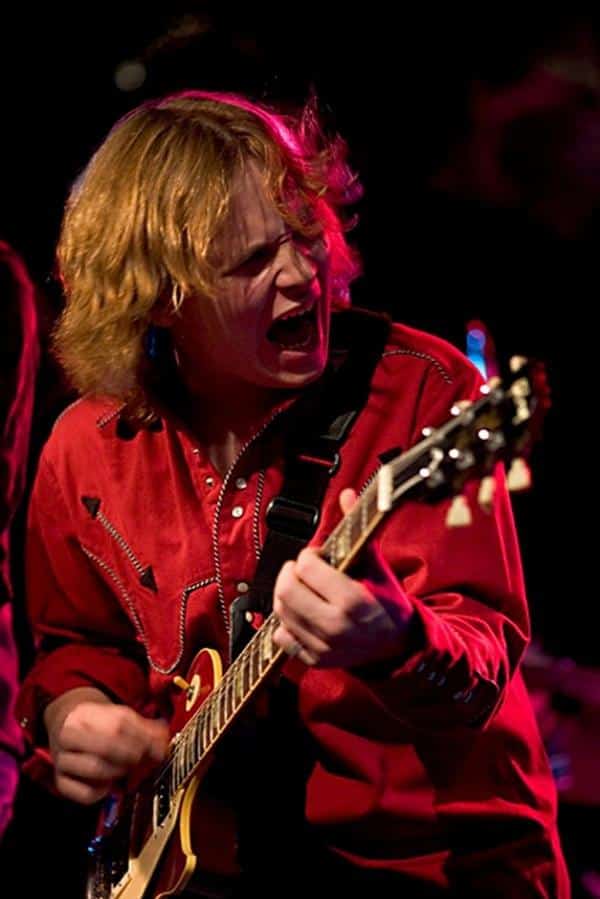 April 25, 2010 @
The Waverley Hotel in Cumberland
Blues/rock/guitar extraordinaire
Jimmy Bowskill may just out of high school, but he has proven himself to be one of Canada's most prominent mucisians and singers. The 19-year-old has astounded everyone from The Allman Brothers Band founder Dickey Betts to ZZ Top's Billy Gibbons and Canadian icons Colin James and the late Jeff Healey.
His self-titled third album is evidence of how this Toronto native is forging an original blues-rock sound, not unlike Cream or the Black Crowes did in their time. "I think it's coming back around," says Jimmy, noting the cyclical nature of the music business. "My friends at school listen to Zeppelin and the Crowes. People want to hear that stuff again."
From the swampy first single, "Diamond Ring," powerhouse "Far From Reality" and solo-injected "Rattle Snake Shake" to the trippy "Drifting Haze" and reggae-based "Black Sea Star," Jimmy is the guy to kick-start the next cycle. "Nine" is a minstrel-y instrumental, in the vein of Zeppelin's "Black Mountain Side" and "The Kara Dog" is an electrifying jam.
"I just wrote a bunch of songs and the music progressed into more of a rock feel," says Jimmy.
Jimmy seemed destined to be a musician. Born in Toronto on the same day as B.B. King, he was raised in Peterborough, Ontario in a household filled with the music of Led Zeppelin, The Beatles and Jimi Hendrix. While he played hockey from the age of 3, once he picked up the guitar at 10, he put everything he had into mastering the instrument. Like any kid of the nineties, he could've been inspired by Nirvana or Radiohead, but instead he was drawn to the blues.
"It just seemed so real," explains Jimmy. "It's just a really soulful music and it comes straight from the heart. There's nothing used to hide anything. It's just straight up."
A year after first picking up the guitar, he convinced his father to drive him to downtown Toronto to meet Jeff Healey at the legendary guitarist's original blues club. Busking on the sidewalk, Jeff came outside to witness this kid prodigy and personally invited him in for a jam session. In 2002, Jimmy released his first CD, Old Soul, a mix of covers and originals that earned him international attention. "It's a neat thing to have," says Jimmy of the album he made at age 11.
With the follow-up album, 2005's Soap Bars & Dog Ears, Jimmy began to come into his own, developing a rock edge now evident on his third album. "The first one is straight-up traditional blues and a bit of jazz, and the second one got into rock a little more, but is still pretty traditional," says Jimmy, whose sophomore album earned a Juno Award nomination for blues album of the year.
Jimmy now performs about a hundred concerts a year, while still wrapping up his last year at Peterborough Collegiate and Vocational School, a high school with an integrated arts program focused on drama, music and visual arts. "My teachers really help me out," says Jimmy.
"I can't imagine doing anything else with my life. The current album really reflects who I am at this moment, the same way the first and second albums reflect who I was when they were recorded. I don't know what the next album will be, but I'm sure that it won't be the same either, and that's great! It shows that I'm growing and evolving as a musician."says Bowskill.
Jimmy has developed a major fanbase right here in the Comox Valley with 2 sold out shows at the Waverley and a signature performance at the Big Time Out '07. He and his band perform at the Wave on Sunday May 25 with music at 9 P.M. Tickets for this show are on sale at Bop City, the Waverley and by phone at 250 336 8322.
myspace.com