Kyprios and the Chaperones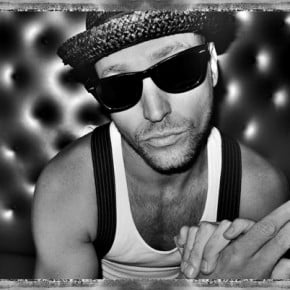 September 16, 2011 @
Waverley Hotel
Check out Sweatshop Unions' award winning MC with Vancouver's funksters on their first Canadian tour.
The classic definition of the term MC is one that has the ability to grip a mic and control the crowd, and Kyprios has more than earned this title. He is a commanding presence on stage – able to hold the crowd in silent rapture as he drops an introspective piece that draws heavily from spoken word, only to suddenly flip it and incite a sea of thrusting hands with a rapid fire set of punchline-laden lyrical flows. Able to deliver a seamless blend of rapping, singing and harmonizing, the North Vancouver, BC native's larynx is a potent stash of varied lyrical weapons.
On a roadtrip to New York City with Prevail from Swollen Members, the aspiring MC/actor/poet was compelled to lengthen his stay in hip hop's Mecca. Studying theatre at HB Studios in Greenwich Village, hitting monthly rap battles anywhere in NYC and participating in poetry slams at the Nuyorican Poetry Cafe, the young artist was learning amongst the most reputed craftsman and developing his trade amongst them. Winning a poetry slam with a controversial spoken word piece "Hate," Kyprios headed back to his hometown of North Vancouver to transfer his education into practice. Kyprios released the independent EP "Mic Tease" that would be the catalyst to get him performing numerous club shows and begin to host a weekly open mic poetry series dubbed "Come With It" in Vancouver.
During this period, Kyprios was also a founding member of the two time Juno-nominated Sweatshop Union. While working within the group, Kyp maintained his solo identity and continued to write and record his own material. This output included three tracks featured on the Local 604 album, which was released by BattleAxe Records. BattleAxe also selected Kyp's song "Master" for inclusion on their Lyrics Of Fury compilation.
Kyprios' solo work caught the attention of Sony Music Canada when he sent the company a package containing some tracks and a video of the slam winning, spoken word piece "Hate." Kyp signed with the label and began a tumultuous period trying to do the impossible: make commercially viable underground music satisfying a record label and his core fans. He also offered outside help on Sweatshop Union's juno nominated "Natural Progression" from Toronto at this time. His solo effort resulted in the two time, Juno nominated "Say Something," featuring production from Saukrates (Kardinal Offishall, Method Man), Billy Mann (Pink, Kelly Rowland), Rob The Viking (Swollen Members) and good friend Tawgs (Lights, K'Naan). With the unfortunate timing of the industry's changing climate, Sony Canada was merged into BMG and Kyprios' solo record was shelved but his career was not.
Kyprios moved back to Vancouver, re-joined Sweatshop Union to begin a rigorous touring schedule and put out the Juno nominated "United We Fall," and the critically acclaimed "Water Street" albums. He recently released a new solo offering entitled "12:12″ which propelled him into a radio competition for one hundred thousand dollars in Vancouver, through the Peak radio station called the Peak Performance Project. Kyprios eventually went on to win this prestigious competition and recognizes this experience as the most informative/beneficial of his career.
Kyprios has toured all over North America solo and as part of Sweatshop Union with the likes of The Black Eyed Peas, Busta Rhymes, Wyclef Jean, The Roots, Rakim, Living Legends, Swollen Members and Jurassic Five to name a few. He has made numerous appearances in television and film and is one of the voices for Michael Jordan's website jumpman23.com. Kyp has won a Jesse for his musical work in a play called "Cranked", has licensed music to MTV's "The Buried Life" and continues to write for/with many artists. He still writes poetry and is eagerly anticipating the release of his next major project "The Midnight Sun." He is currently working on the music for a new play with Greenthumb entitled "Ash Rizin.'"
His latest collaboration is with the Chaperones and the chemistry is undeniable. Check out this award winning MC with Vancouver's funksters on their first Canadian tour.
http://www.youtube.com/watch?v=VTsWugUl_Dg&feature=player_embedded#!