Kytami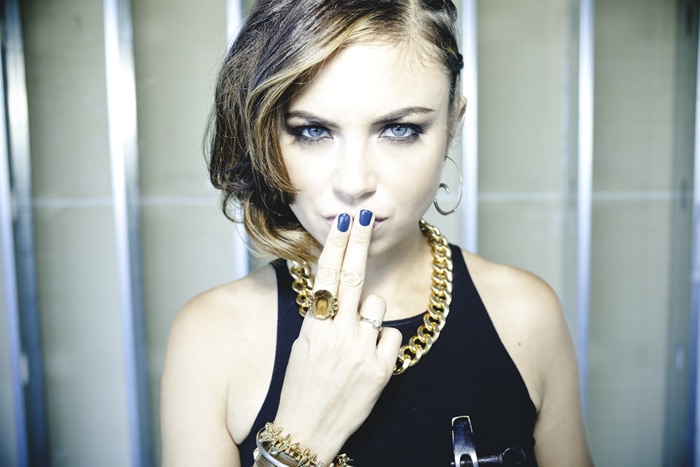 April 18, 2014 @
The Waverley Hotel
This girl doesn't play shows, she detonates dance floors. With special guest Lady K.
If a line exists between classical and electronic, between ancient and new age, synthetic and organic, Kytami has sliced them all using only a violin bow… but what more does she need?
Through an alchemy of classical, fiddle styles fused with the heavy bass elements of Dubstep and Hip Hop, Kytami has managed to soar above not only the constraints of musical genre and labeling, but has forged a path so bold and unique that it's taken her alongside groups from Swollen Members to acoustic punk rockers Blackie and The Triumphs and today she is regularly dubbed Canada's most diverse and engaging fiddle player.
After co-founding the critically acclaimed global-fusion sound-storm Delhi 2 Dublin in 2006 and subsequently co-songwriting them toward international musical success until 2010, Kytami surged forward with her own solo career, bringing the essence of her music to audiences in its purest possible form.  The 2012 release of her eponymous full-length solo album made this a reality by combining the far flung elements of Classical Music, Dubstep, and the world that only Kytami knows.  In  2013 she won "Live Act of The Year" at the Vancouver Island Music Awards and "Electronic/Dance Recording of the Year" at the 2013 Western Canadian Music Awards.
With all this enigma, what can you expect at a Kytami show? Well let's start by straightening that out actually, the girl doesn't play shows, she detonates dance floors. Whether in front of Delhi 2 Dublin or Turntablist "The PhonoGraff", Kytami is internationally renowned for one thing: she rocks the fiddle like a woman possessed… and the audience dances to match.
From Germany to Hong Kong and Joshua Tree Festival to Shambhala, one thing is affirmed at Kytami concerts time and again: If you dare witness this violin diva take the stage, be prepared to wear through not only the soles of your dancing shoes, but perhaps the version of reality you brought to the door.
With special guest Lady K. LadyK's passion for music began as a 4 year old child, playing a paper keyboard and hearing music in her head. After finishing a bachelor of music in education and composition 20 years later, she walked away from the classical world to explore more basstastic realms. Her passion for tropical beats, world rhythms and bass bangers ignites her unbridled enthusiasm, which she spreads effortlessly and relentlessly. It is her goal in life to leave no bootie unshaken.
https://soundcloud.com/ladyk108