Kytami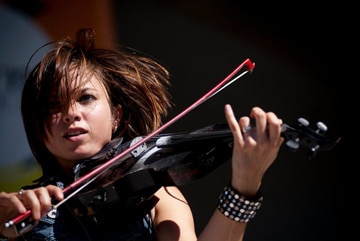 March 30, 2012 @
The Waverley Hotel, Cumberland
Join us in celebrating Kytami's solo album release. Past member of Delhi 2 Dublin.
Kytami is a violinistextremist. Perhaps Canada's most diverse and engaging fiddle player, she is an unbelievably energetic performer. Kytami can bound between classical and fiddle styles, match them to heavy bass and electronic dance beats and then effortlessly cross genres to combine her skills and sound with the pounding of skins in punk and metal.
With her abilities, style and devilish smile, she has won over audience after audience, appearing at most major festivals across Canada and in the Western U.S. as well as performing overseas in Taiwan, Hong Kong, Germany and Dubai. Kytami has appeared on albums by The Swollen Members and The Rebel Spell, collaborated with bands such as the dancehall/hip-hop group Third Eye Tribe, Goatsblood and legendary dub producer The Mad Professor and has also co-written two albums and toured extensively with the multi-cultural, award-winning band Delhi 2 Dublin.
GEOGIA MURRAY:
Georgia was recently chosen as one of Canada's top 8 bands competing for a recording contract and $100,000 on CBC's, Cover Me Canada and just won the 2011 Times Colonist's "Fan Favourite" music award. Georgia is an incredibly engaging and emotional performer and has opened for great acts such as KRS One, Talib Kweli, Jurassic 5, K-OS, Shad and The Canadian Tenors amongst others. She has performed privately for Warren Buffet, Michelle Pfeiffer and William Shatner, sang anthems for numerous NHL and NBA teams and has played many of Victoria and Vancouver's best live venues with a sound labelled Alternative/Soul. ET Canada has called her "Canada's own sweet singing sensation" and she was chosen as The Province's "Monthly Musical Pick" twice in the last year.
ASHLEIGH EYMANN:
Ashleigh Eymann is a soul singin, rap slingin, multi-instrumentalist and collaborative artist and one of the fortunate PEAK Performance Project's Top 20 for 2011. Ashleigh's style and expertise has garnered her attention from the who's who of the BC Hip Hop scene. She has worked with Jeff Spec, Just B, Ishkan, Moka Only & Fatty Down to name a few. As a member of the hip-hop collective group, The Current (DJ Murge, Ishkan, JustB), Ashleigh has performed in Vancouver and across Vancouver Island and has opened for many artists including Jurassic 5, Brother Ali, One Self (DJ Vadim, Yarah Bravo, Blu Rum), and The Beatnuts. Ashleigh has added to her impressive resume and delved into the role of emcee with the Vancouver based hip hop collective INDIGO KIDS while continuing to write her soulful ballads.
**These incredible female performers will be joined by Victoria's own, legendary Hip Hop DJ, D Whiz. D Whiz has rocked shows alongside the biggest names in the DJ world including Mixmaster Mike, A-Trak (Kanye West), Lil'Jaz (Nelly Furtado), DJ Wax, DJ Cash Money, DJ Jam (Snoop Dogg), Roc Raida and more. He has opened for the Beatnuts, Ice T, Blackalicious, Pharcyde, KRS One, Jully Black, Maestro Fresh Wes and Kardinal Offishall to name a few. D Whiz produced and DJ'd many of Victoria's most popular college and commercial hip hop radio shows alongside his partner Degree One and won numerous remix contests as well as placing 2nd in the Vancouver Island DMC's. D Whiz also appeared on CBC's, Cover Me Canada as apart of Georgia Murray's band and is currently Georgia's producer and co writer.
http://ashleigheymann.com