Mark Berube and the Patriotic Few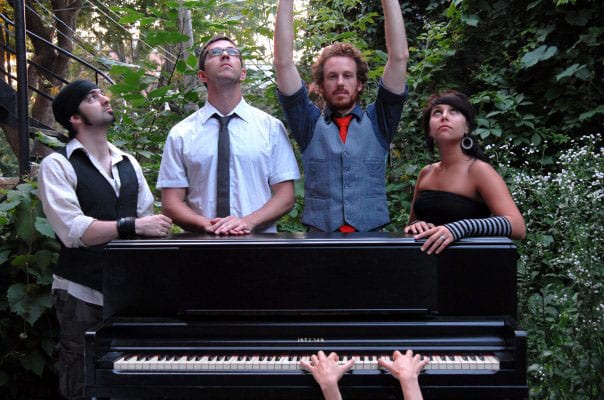 March 16, 2011 @
Joe's Garage in Courtenay
"A song-writing stunner" Grant Laurence, CBC Radio 3
Recorded by Howard Bilerman (Arcade Fire, Basia Bulat, Silver Mt Zion) live off the floor at Montreal's Hotel 2 Tango, June In Siberia is the full length follow up to 2008's What The Boat Gave The River. June In Siberia sees a departure for Mark Berube and The Patriotic Few (Kristina Koropecki on cello, Patrick Dugas on drums, and Amélie Mandeville on bass) from their previous experimentation with large-scale arrangements of strings and horns, choosing instead to hone in on the impressive vocal and instrumental strengths of each member. Joining the band are four special guests. Dan Mangan appears on Side of the Road, Emily Loizeau sings a verse in the redemptive eulogy Above the Ground; CR Avery lends a poem in Let Me Go; and Hattie Webb of the Webb Sisters bestows her voice to the blues-piano riff Fela Kuti-inspired ballad My Me Lady. The overall result is a striking and unique blend of indie chamber-folk.
Since the release of What the Boat Gave the River, Mark Berube and the band have rarely left the road. Their September 2008 Cabaret Juste Pour Rire concert in Montreal, was recorded by the CBC for Canada Live and was programmed and aired an unprecedented 8 times on Canadian national and regional radio programs, drawing Mark a comparison to a "young Leonard Cohen" from CBC's Duke Eaton for his lyrical brevity and craftsmanship.
After a sweep of festivals across Canada in the summer of 2009, Mark Berube and The Patriotic Few closed the year with an invitation to join Prix Victoire recipient Emily Loizeau at the renowned Olympia Theatre in Paris in December. In 2010 at Paléo, one of Western Europe's biggest summer festivals, they were called the "Act to Discover" while a short month before, Mark opened for Irish rockers The Cranberries at the sold-out 8000 capacity Arena in Geneva, Switzerland. As the opening act for European songstress Sophie Hunger at a sold out show at La Cigalle in Paris, he sold out of albums both nights and was touted by the French press as "a very strong and promising artist …equally charming behind the piano or a cappella"
The summer of 2010 marked the release of the acclaimed Tailored To Fit EP and the fall of 2010 saw the song Flowers on the Stones from What the Boat Gave the River appear in the Québecois film Route 132. With a March 1st release date for band's new album approaching the momentum continues to build and build. It will, of course, come as no surprise to anyone that Mark and the band will be bringing June in Siberia to audiences all over North America and Europe throughout 2011.
http://www.myspace.com/markberubemusic