MAY 3 WAY – Geoff Berner / Carolyn Mark / Kris Demeanor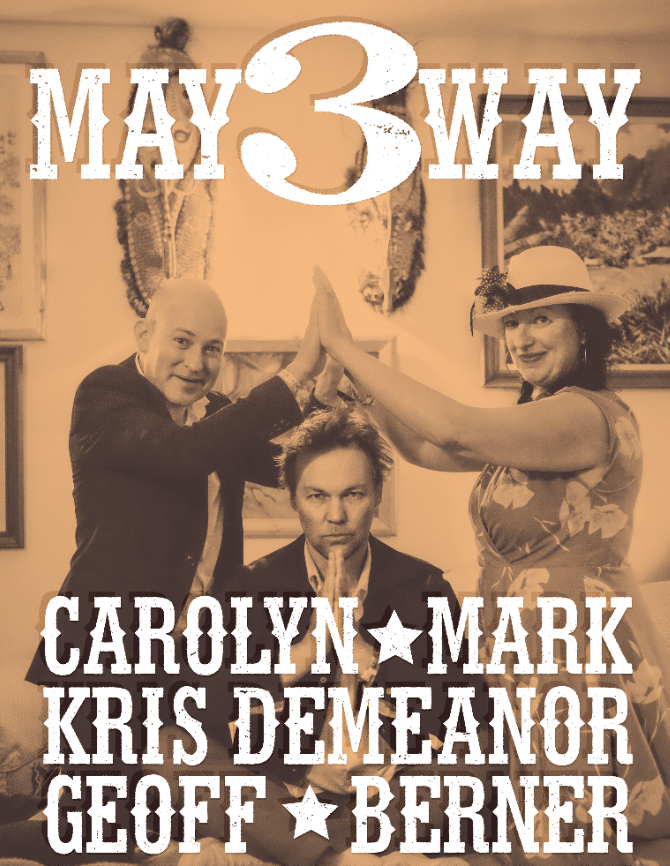 Saturday, May 18, @ Waverley Hotel
The infamous satirical folk rock 3-Way make their way to Cumberland on May 18th.
Get Tickets Now
Playing in the round and backing up each others' songs by playing along or just heckling, this sideshow is as much comedy as it is excellent original songwriting from some of the west's finest – an unmissable evening with…
CAROLYN MARK (Vancouver Island)
Queen of Vancouver Island, folk and country songstress Carolyn Mark is a contributing and long toured household name among Canadian original songwriters. Always touring with her 'New Best Friends' a mash up of longstanding string pickers and drum shufflers along with her – they bring the sounds of late night kitchen parties and good memories with your friends
"There's two kinds of women you let in your life/ Exciting new mistress and boring old wife," sings country throwback Carolyn Mark on her new album, Nothing Is Free. The line is indicative of Mark's straightforward style – she doesn't take shit and she's not afraid to let you know it. And, safe to say, Mark is not boring. She's good friends with fellow twangy siren Neko Case (the outspoken duo released an album together in 2000) and the Canadian songwriter has made a name for herself with five brassy albums over the last seven years."
"Mark's music is so authentic in its back porch vibe, it seems to come with its own direct link to Loretta Lynn's '60s heyday – like her heroes, Mark is not afraid to rail against a man too drunk to understand his own fuck-ups. Not to say Mark is some kind of saint: Her gigs are known for their off-balance candor and ribald humor as much as the homespun tunes. Go for the music, stay for the dirty jokes."
– Metromix New York
http://www.carolynmark.com/
https://carolynmark.bandcamp.com/
GEOFF BERNER (Vancouver)
West coast Canada's premier folk activist and satirical original anthem writer – accordion toting Geoff Berner brings his analytical witty thoughts and observations through revised mainland European traditional folk music stylings, bringing back 100 year old melodies that have relevance in todays social political climate
"…his protagonists are based on real people, but they're compound figures, not limited to a single source. More important is that his books chronicle a subculture that's generally examined only fleetingly, in impermanent media such as radio shows and weekly magazines."
— Georgia Straight
"Cherish him, cherish him, for there really is no one like him. Fantastic."
— Billy Bragg
http://geoffberner.com/
https://geoffberner.bandcamp.com/
KRIS DEMEANOR (Calgary)
Clever and comical poet and electric picker Kris Demeanor is as dryly funny as he is astute, almost rhyming and delivering clever word patterns so fast he appeals to hip-hop fans though he is a sweet hearted and morality seeking folk activist at the core. He theatrically uses elements of rock and roll, dance beats and art pop.
Poet laureate, independent film actor, visual artist.
http://www.krisdemeanor.com/
https://www.youtube.com/watch?v=MhpPltX1GtY