OKA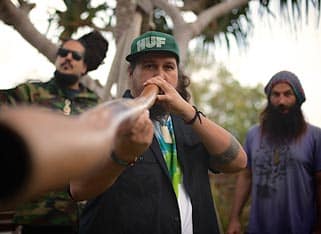 June 26, 2015 @
The Waverley Hotel
Oka were hugely popular closers at last year's Atmosphere Gathering. Don't miss them on this year's Canadian summer tour at the Wave!
A celebration of all that it is to be alive and free in the world today, OKA draws upon their indigenous connection to place and country through music. Their signature sound is an irresistible blend of influences spanning house, big beat, reggae-dub, Roots, Jazz and world music. A rhythm based sonic tapestry crossing cultural boundaries, embracing the future without losing sight of the past. "Try to imagine Bob Marley meets Stevie Wonder via the chemical brothers, on acid, playing in a steaming rainforest with a didgeridoo and you are getting close."
Almost solely known through word of mouth, the unconventional growth of these Aussie boys defies the norm. Relying on instinct, they have let their music and love for performing dictate direction to create a real time soundtrack, and an empowering vibe leaving listeners hungry for more.
Born from a relaxed street jam over 10 years ago, they continue to bring the joy, fluidity and simplicity of their positive music to a much larger, growing audience on a global stage. Independently selling over 140,000 albums, they have shared the stage alongside inspirational acts Arrested Development, Finnley Quay, Xavier Rudd, Dehli to Dublin, Kinnie Starr, Digging Roots to name a few.
At the creative heart of the music is Stu Boga Fergie (aka DidgeriSTU) who connects you to earth with the deep subsonic pulse and resonance of his Yidaki (didgeridoo). He is the big man behind the electronic beats, keys & vocals inspired by his aboriginal heritage.
The OKA Collective includes Lee Hardisty plays captivating melody on gypsy guitar, sax, flute & woodwinds. Holding down the OKA groove is Nth African-Polish-Australian Julian Bel-Bachir – a rhythm specialist with African juju beats of deep tribal fire.
Together they blend many pieces that is the OKA puzzle – A sound & force that touches the heart & feeds the soul.
okamusic.com