Oliver Swain's Big Machine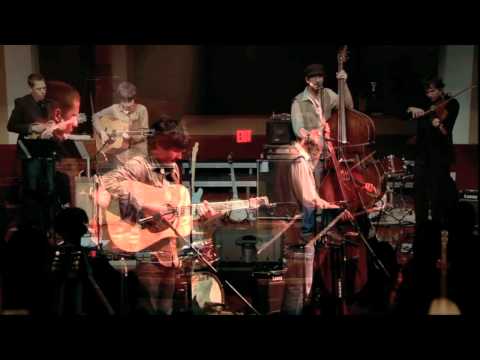 February 1, 2011 @
The Waverley Hotel
"infectious vocals and consumate musicianship….don't miss"
Victoria's favorite folk and traditional musician, Oliver Swain and his new band "Big Machine" to celebrate the release of the CD In A Big Machine. Oliver is a founding member of Scruj MacDuhk, a former member of The Red Stick Ramblers and Outlaw Social, and a very talented musician – excelling on voice, bass and banjo.
"Big Machine" are: Oliver Swain, Quinn Bachand (guitar), James Whitall (mandolin) and Adrian Dolan (Guitar).
Hailing from Victoria, BC, nearly the farthest west (or left) one can be, Oliver Swain is Canada's quintessential folk and traditional musician.  He eats, sleeps and breathes music, and his prolific career evidences this in many ways.  With his pure, finely tuned vocals that have an astonishing range, and his undeniable skill behind a banjo or upright bass, Oliver grabs the attention of all who hear him, and holds it with his enormous sound and stature.  From the most vulnerable and innocent sounding banjo ditties to the brave and imposing bowed bass, Oliver delivers his own brand of alternative folk and traditional music to the masses with a smile and a twinkle in his eye.
http://www.bclocalnews.com/vancouver_island_north/comoxvalleyrecord/entertainment/114305974.html
w.myspace.com/oliverswain