PINEO & LOEB + Kytami & Phonik Ops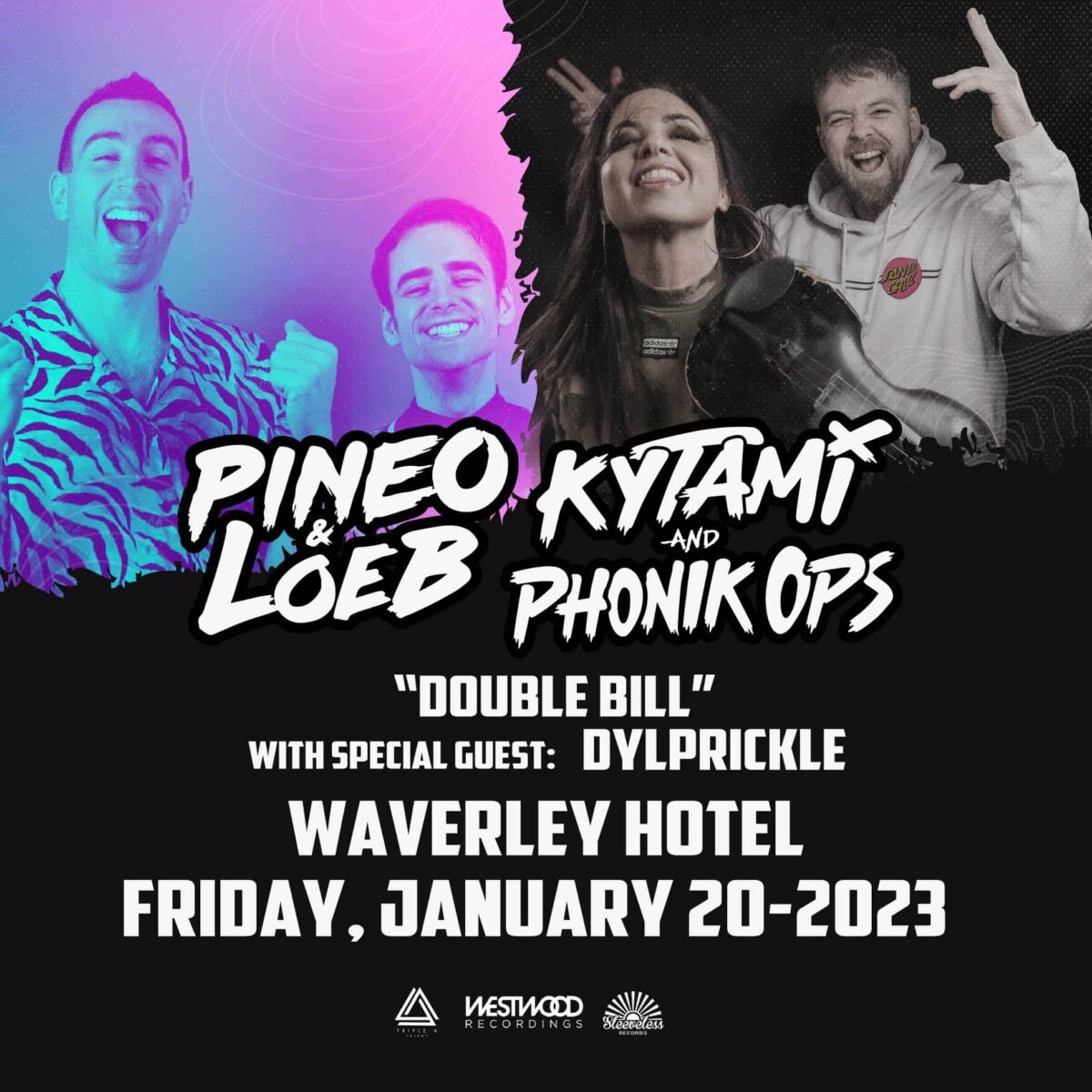 Friday, January 20-2023 @ The Waverley Hotel
This double bill features Pineo & Loeb + Kytami & Phonik Ops! Both acts are festival favourites. Together this promises to be a winner from start to finish.
Get Tickets Now
Pineo & Loeb
Uplifting, Funky, High-Energy & Good Vibes are just a few words that describe Canadian electronic Producer/DJ duo, PINEO & LOEB! Together they blur genre boundaries uniting electronic, dance, hip-hop & rock fans alike.
Unbeknownst to them, they were an accident waiting to happen! Many years ago, they were booked for the same show and through some confusion, both were left to play but with only 1 time slot available. Instead of doing what normal people would've done…Rock, Paper, Scissors for the spot…they decided to do a B2B set and haven't looked back since!
With multiple international tours, collaborations with Grammy Nominees and support from BBC Radio 1 (UK), Virgin (CAN) & George FM (NZ), PINEO & LOEB hit a balance of pure party fun and artistic ambition. Steadily making a name for themselves in the electronic music scene, their music can also be heard on multiple major networks such as Netflix, Fox and TNT.
They have become in-demand for providing official remixes to major label and independent artists alike. Grouplove (Atlantic), Olivia O'Brien (Island) and Canadian pop star, Rêve (Universal) are amongst some of the latest artists to receive the PINEO & LOEB flare.
Having toured extensively across North America and abroad, they have supported as such as Marten Horger, Dr. Fresch, Zeds Dead, The Funk Hunters, bbno$ and Stylust. P&L have racked up some notable festival performances including Shambhala Music Festival, Bamboo Bass (Costa Rica), Valhalla Sound Circus, Future Forest and Conexion Beach Festival (Mexico).
Kytami
There are few acts on the west coast combining live instrumentation, high energy  and gritty bass with the ferocity and craft than violinist Kytami and DJ/Producer Phonik Ops. They have made it their mission to create a truly unique sound that  would be instantly recognizable as their own all the while drawing on their shared love of Drum n Bass, Hip Hop, Punk and bass heavy dance music.
Since connecting at a festival in British Columbia, they have become one of the most intriguing acts, standing out in an already saturated musical landscape. Kytami & Phonik Ops have continuously built up their fan base with spectacular  live shows and an ever-increasing catalogue of impactful music.
This power duo has certainly kept up with their forward momentum in the past couple of years. They produced exclusive guest mixes for the DnB Show with Rene LaVice on BBC Radio 1 and BeatLab Radio, a weekly Bass music show out of  Bend, Oregon. 2022 saw them headline many festivals across Canada as well as make their UK debut at Nass Festival just outside of Bristol.
Dylprickle
Comox Valley's best kept secret. Bangin beats and dancefloor favourite,  he delivers that special party mix everytime. https://soundcloud.com/user-913119037