Rumba Calzada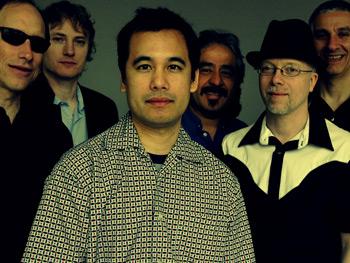 April 15, 2011 @
The Waverley Hotel
Award winning Latin Salsa dance ensemble led by percussionist extraordinaire Raphael Geronimo
Originally formed in 1991, by Boying Geronimo and now headed by his son, Raphael Geronimo, RUMBA CALZADA has been a favorite with Vancouver's Latin Jazz and Salsa enthusiasts for over 15 years.
Rumba Calzada's Vol.3 CD has been nominated for various awards including a 2002 Westcoast Music Award, a 2002 Canadian Independent Music Award, and a 2002 Juno Award. The band performs a powerful blend of Latin Jazz and Afro-Cuban rhythms that are…
"Guaranteed to move your feet and reach your soul". – Latin Beat Magazine, Los Angeles
Their latest CD, Album 4, was nominated for a 2008 Western Canadian Music Award for Outstanding World Recording of the Year.
In 2008, Rumba Calzada performed at the Miri International Jazz Festival in Sarawak, Malaysia, representing Canada, and was voted as the"crowd favorite" to return for 2009.
"Canadian Based Rumba Calzada brought the house down with their eclectic mix of Latin, Salsa and Afro-Cuban rhythms." -Adam Lee, Music-Room- (Asia)
http://www.myspace.com/rumbacalzada