Shane Koyzcan and the Short Story Long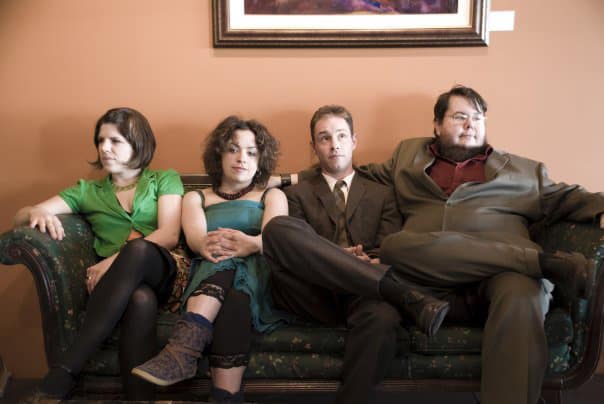 October 27, 2011 @
Sid Williams Theatre
Cumberland Village Works is proud to welcome back Shane Koyczan, the MC from our first festival.
You only have to hear spoken word virtuoso Shane Koyczan once to be hooked–humane, furious, sexy, political, tragic, and so funny you'll be laughing through your tears.
Winner of the US Slam Poetry Championship and Canadian Spoken Word Olympics, he has been featured on BRAVO television, and NPR, BBC, CBC, and ABC (Australia) radio.
Shane was commissioned by the Canadian Tourism Commission to write a 'Poem for Canada' in early 2007. Shane wrote "We Are More" and has performed it to ovations across the country. It's a heartwarming, tear-jerking homage to Canada.
With self described "Experimental Acoustic Folk" music by the Short Story Long, Shane moves from subdued, deep, sad love poetry to power chord hip-hop. He brings enormous vitality and virtuosity to every performance. His warmth, wit and sincerity are a hit with crowds and his lyricism inspires all who listen.
Shane Koyczan is one of the world's premier spoken word performers. His last performance, at the 2010 Olympic Opening Ceremonies brought the 55,000-seat house to their feet with his tear-jerking homage to Canada "We Are More". The Guardian (UK) and the Globe and Mail (Canada) hailed his book, Visiting Hours, as a Book of the Year Selection by, and he has recently released his second book, a novel in verse, called Stickboy.
Now the multi award winning spoken word performer breathes life into the new genre of talk rock with his band the Short Story Long, a musical trio (Olivia Mennell, Maiya Robbie, and Stefan Bienz) whose musical range stretches from folk to funk, from ambient to rock, showcasing all of the beautiful in between. A band that is always accessible but by turns hilarious, moving and deeply profound…often all in the same song. Winning "Best New Artist" at the BC Interior Music Awards in 2009, receiving standing ovations at festivals across Canada, and selling out theatres and café's alike, the band is turning heads on the Canadian independent music scene.
http://www.sidwilliamstheatre.com/october.html