Small Town Artillery & Kutapira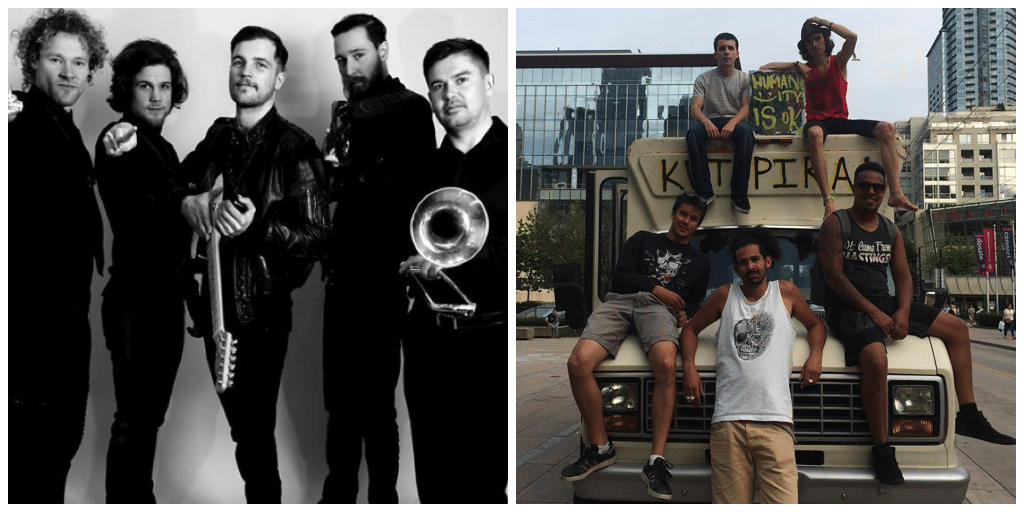 Friday, June 14, @ Waverley Hotel
Double bill evening with Small Town Artillery and Kutapira. Between the two bands, expect to hear a lot of instruments!
Get Tickets Now
SMALL TOWN ARTILLERY are from Kaslo, BC – population 1000. Their mission is creating funk-influenced, melodic and heartfelt, riff-driven rock & roll. They've been booking their own tours, taking over backyards, clubs and festivals for 3 years. This is a DIY band that puts together an unforgettable live concert. Frontman Tom van Deursen cannot contain his excitement as he leaps on to the stage, ruby-red telecaster slung gregariously across his chest. Drummer & brother Derek van Deursen owns the throne behind the drums and provides the group with their foundation. Bassist Carson Webber is a consummate professional and incredible story teller – the perfect glue for the brothers. The band always tours with a full horn section. Always.
KUTAPIRA – Zimbabwean Marimba, Afro-Cuban & West African rhythms, Reggae, Samba, Afrobeat, Funk, Jazz, Cumbia, Disco and Hip Hop all contribute to a fusion of styles intelligently selected, seamlessly blended and brought to you by Kutapira. 
​What started out thirteen years ago as a youth world music initiative has metamrphosized into the crowd pleasing percussion explosion known today as Kutapira. The name Kutapira means "sweetness" in the Shona language of Zimbabwe, a fitting title for a band that plays a fusion of Zimbabwean marimba with West African and Afro-Cuban percussion. For years they performed exclusively as a mallet swinging, skin-slapping quintet but now, in their latest evolutionary form, feature guitar, vocals and electric bass.