Sunday Brunch w Max's Midnight Kitchen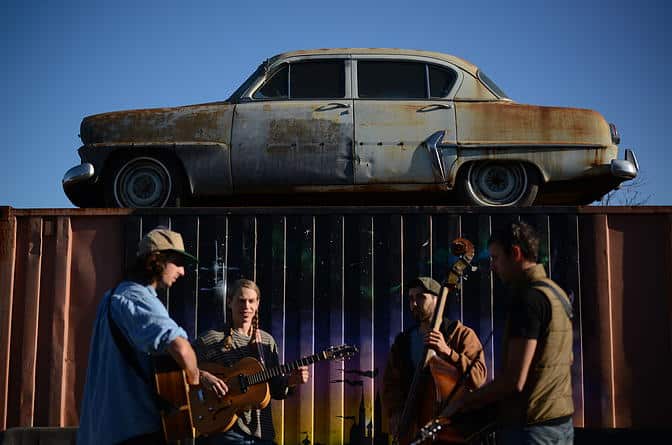 May 17, 2015 @
The Waverley Hotel
A nationally touring string band based out of Portland, OR, performing original and traditional music that blends time-honored folk, bluegrass, and country themes.
Max's Midnight Kitchen is a nationally touring string band based out of Portland, Oregon. Their sound is characterized by the songs and harmonies of Matt Takiff (acoustic guitar) and Daniel Nickerson (banjo and electric guitar), whose music combines time-honored folk, bluegrass, and country themes with a healthy dose of surrealism and humor. Informed by travels up and down the interstates of the US and across international borders, their songs tell stories of wily characters and paint pictures of the world as it goes by outside.
After making their initial acquaintance in 2010 while auditioning for the same tenor sax position with the Lewis and Clark College jazz combo (they both got it), Matt and Daniel have been playing music together ever since. Max's Midnight Kitchen began as a family band of immense proportions, with as many as ten musicians cramming into basements across Portland to play late into the night. In 2012, Daniel borrowed a banjo he never gave back and the lineup slimmed down to a quintet, with Justin Eubanks on mandolin, Elliot Kuhlman on bass, and Micah Rilkepartain on percussion. After recording two albums in their practice space, the group continued on as a quartet without drums, and refined their craft further. 2014 saw the completion of their third full-length album, whose 11 tracks were recorded live in a single day in a resonant chapel in SW Portland.
As a duo, Max's Midnight Kitchen set off in early 2015 to spend a month touring the west coast in Blake, a much-loved green minivan. Matt and Daniel made a pit stop at Coyote Hearing Studio in Oakland, CA to record their most recent collection of tunes, a six song EP titled "Travels with Blake." Working with producer Erik Yates of Hot Buttered Rum, as well as Jan Purat and Alex Bice of Steep Ravine, the recordings reflect a new direction for the group, blurring genres and creating a style uniquely their own.
In addition to their original material, Max's Midnight Kitchen performs songs from American old-time folk and bluegrass traditions, along with some rock and country classics thrown in for good measure. Whether performing in a noisy bar, a bustling farmer's market, or a hushed living room, the full feeling of their songs and stories comes through loud and clear.
maxsmidnightkitchen.com