Sunday Brunch with Heather Blush & The Uppercuts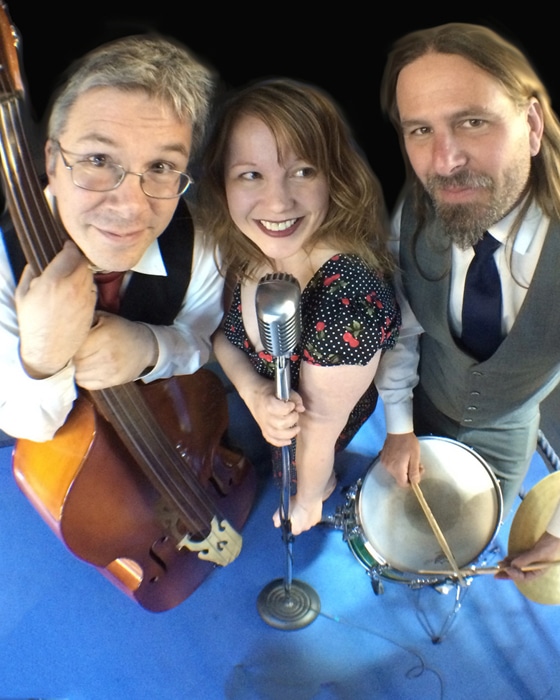 May 3, 2015 @
The Waverley Hotel
Heather Blush and The Uppercuts is a trio of rogue troubadours based in Calgary, Alberta, Canada.
Sassy, sultry, and just plain fun, this trio performs original songs designed to knock your socks off! With energetic, audience-engaging shows, Heather is quickly becoming known for songwriting that covers all bases between witty sarcasm and gutwrenching honesty. With "Captain" Steve Hazlett on drums, Shane-no-name (from Sooke, BC) on upright bass, and sometimes guests such as Cedric Blary on clarinet and sax, this band packs a punch and leaves a lasting impression.
What "is" their music?
"I always have trouble with the description. I just kind of group a few things together. I always say we're sort of jazzy, bluesy roots … Roots kind of sums it up but add a little of the flavours of jazz and blues to it." says Heather. "Vocally I listen to a lot of old-school jazz —  I listened to a lot of Ella when I was just starting to sing and so I think that influenced a lot of my phrasing and different things in the way that I sing. But I'm also a songwriter, I write most of the songs that we do and so in songwriting I've been influenced by more Canadian singer-songwriters like Stephen Fearing and Vance Gilbert, he's not a very well-known guy but he's from the Boston area in the States and travels up here every once in awhile. Just any kind of songwriters that write interesting things and don't write the same thing in every song influence me."
In addition to the Uppercuts, Heather and Steve do a thing called Lemon Drop, which is jazz standards, for corporate (functions) and weddings, as well as a children's project which has really been taking off. In 2013, they put out their  first kids' album as Rattle and Strum.
Visit Site