Supersuckers & Lydia Loveless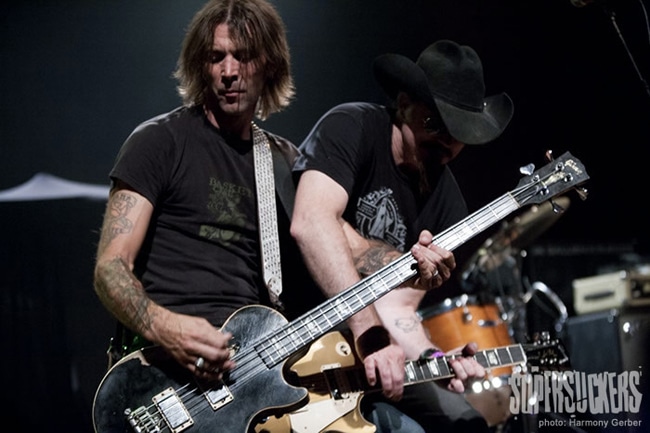 May 23, 2013 @
The Waverley Hotel
Remember to wear you clean underwear, because they're gonna rock your pants right off of you.
The Supersuckers are literally a human cartoon. They all grew up among the dead-ends and cactus needles of Tucson, Arizona and have known each other since grade school. They graduated from the same high school together at the same time (a school immortalized in the song "Santa Rita High") and chose to play in a band together because they liked to hang out together, not because they were great musicians or anything.
The Supersuckers have always toured their asses off all over the world and that has never stopped. They hit the road with bands like Mudhoney, Social Distortion, Bad Religion, The Ramones, Motorhead, The Toadies, The Butthole Surfers, The Reverend Horton Heat, The Dwarves, White Zombie and Pearl Jam. They've played a few Farm Aid shows and backed Willie Nelson on The Tonight Show. Their music has appeared in T.V. shows (Beverly Hills 90210, Viva La Bam, Simple Life, Road Rules Challenge, Real World, all that crap), Movies (Baseketball, Hype) and commercials (Mountain Dew) as well as countless snow and skateboarding video compilations.
2003 unleashed the impeccably titled, Motherfuckers Be Trippin' on the world. It was the perfect follow up to The Evil Powers Of Rock N Roll, it spent a couple weeks on the Billboard Independent Charts and songs from it have been featured on MTV's Real World and Viva La Bam shows as well as countless ski and snowboard videos. Even managed to work a single (Rock N Records Ain't Selling this Year) to radio where it was #1 on the RnR Specialty Charts for 4 weeks in a row (whatever that is).
"Get It Together" was the next brand-spanking new record from the Supersuckers. Once again teaming up with the man who brought "Paid" to life, the incomparable Mr. Billy Joe Bowers, the band has never sounded so good.
With special guest Lydia Loveless. Blessed with a commanding, blast-it-to-the-back-of-the-room voice, the 21 year-old Lydia Loveless was raised on a family farm in Coshocton, Ohio—a small weird town with nothing to do but make music. With a dad who owned a country music bar, Loveless often woke up with a house full of touring musicians scattered on couches and floors. When she got older, in the time-honored traditions of teenage rebellion, she turned her back on these roots, moved to the city (Columbus OH) and immersed herself in the punk scene, soaking up the musical and attitudinal influences of everyone from Charles Bukowski to Richard Hell to Hank III.
Loveless's true-to-life testimonials hit and hit hard. Be it whiskey, men, god or alienation, Lydia takes them all on; they may kick, but she kicks back and, even though she stands 5′ tall, when the bar stools start flying, we want her on our side. Click here to view a video "Can't Change Me".
http://lydialoveless.com/