The Boom Booms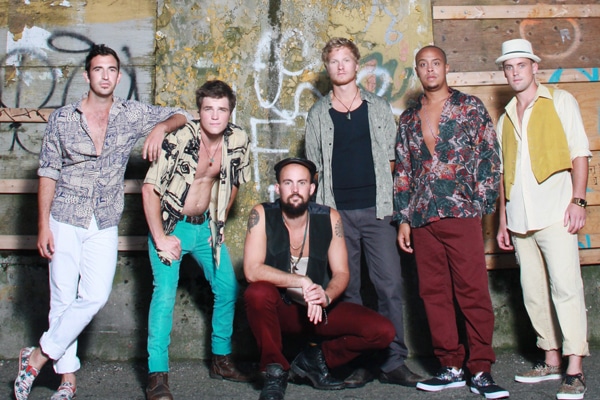 March 29, 2014 @
The Waverley Hotel
The Boom Booms return to serenade us with their latest tunes!
The Boom Booms are a Canadian funk/soul band formed in Vancouver, BC in 2008. The group consists of Aaron Ross (lead vocals), Sean Ross (keys, vocals), Tom Van Deursen (guitar), Geordie Hart (bass), Richard Brinkman (drums), and Theo Vincent (percussion, drums). The band is an independent act that has toured internationally influencing the music scene in countries like Brazil, Spain, Canada, the U.S. and more. The bands' roots soul sound draws heavily from artists including Bill Withers and Damian Marley.
Friends from childhood, they released their debut album, Butterfly Man (2008), where the video for their feel-good party anthem, "When the Night", reached #6 on the Much More Music chart and was licensed for an episode of 90210. "Delivered", a surreal banjo ballad garnered an award for Best Roots Song at the Just Plain Folks Music Awards in Nashville, TN (2008).
The Boom Booms released their debut album ¡Hot Rum! (2011), which earned them a spot in The Peak Performance Project. They won second place picking up a cash prize of $75,000, which enabled them to produce and release their travel documentary, Boom Boom Brazil. The documentary explores the rich and unpredictable adventures of an up-and-coming band on tour in Brazil and raises awareness of the Belo Monte Dam's impact.
Aloe Blacc's song, "The Man" feat. The Boom Booms (2013), became the feature song for the Beats by Dre commercial starring Kevin Garnet of the NBA, which is being played in top cinemas and circulating on TV and online.
The band is currently recording a new album with Grammy Award-winning producer Chin Injeti, which is set to release in Summer 2014.
No stranger to the Comox Valley, the band has played the Big Day Up, the Big Time Out, Rock the Block, and packed the Waverley on numerous occasions.
https://www.facebook.com/theboombooms