The Boom Booms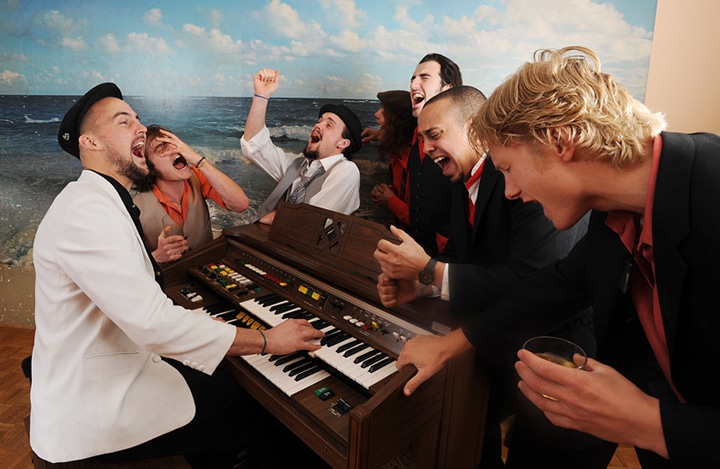 November 5, 2011 @
The Waverley Hotel
Come out for our Big Time Out favourites return, The Boom Booms, before they leave on their next tour to Brazil!
The Boom Booms are a six-piece Latin-soul-funk-rock-reggae band, forged from friendships born on the school yards, soccer fields, cafe patios and eventually bars of East Vancouver.
They make music that makes people want to dance — or "Get up and love somebody," as lead singer and guitarist Aaron Nazrul calls it. Whether breaking into song and dance on the streets of Paris, storming stages with Congolese musicians in Brussels, playing to thousands at the Edinburgh Fringe Festival or serenading abuelitas in South America, the charming sextet is able to reach across cultural barriers and connect with people of all stripes, on levels equally rhythmic and emotional.
The video for their 2007 feel-good party anthem "When the Night" made it to #6 on the Much More Music countdown in 2008, and was optioned for a recent episode of 90210. "Delivered", a surreal banjo ballad that conjures up images of a jungle river baptism, earned them the award for Best Roots Song at the Just Plain Folks Music Awards, which are judged by the world's largest independent music organization.
The talented lineup is: Aaron Ross on vocals and latin-friendly nylon guitar, Geordie Hart on stand-up, sit-down and strap-on bass, Sean Ross on vocals + ukulele/cavacino, Tom Van Deursen on black, sexy electric guitar, Theo Vincent on ragin' percussion + drumkit, and Richard Brinkman on drums that he keeps deep in his pocket.
Founding members Aaron Ross and Geordie Hart are lifelong friends who formed their first band in fifth grade. They discovered their mutual passion for Latin music and culture during a musical odyssey they embarked upon through Cuba and Mexico as 20-year-olds — so much so that many of Ross' viscerally poetic lyrics are written and sung in Spanish. Recently, African influences have begun to make their way into the Boom Booms' groovy stew.
The group's magnanimous influences include the Buena Vista Social Club, Gregory Isaacs, The Budos Band, Manu Chao, Fat Freddy's Drop, Damian Marley, Otis Redding, Sam Cook, Marvin Gaye, Ray LaMontagne, Tabu ley Rochereau and Paul Simon.
If you love em, help them win the 100.5 Peak Perfomance project, to win $100k!
Vote at: http://peakperformanceproject.com/vote/
theboombooms.ca