The Creepshow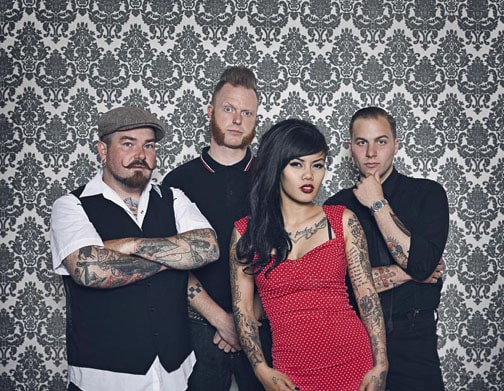 October 25, 2012 @
The Waverley Hotel, Cumberland
THE CREEPSHOW is an explosion of live energy that is a tasty treat for the ears and eyes alike… Whatever you do, don't you dare write them off as just another psychobilly band. While their lyrics draw inspiration from b-movies and early horror films, they're also full of intriguing insight and personal stories dealing with everything from addiction to anxiety to love gone terribly, terribly wrong.
Toronto, Ontario's punk-a-billy sensation The Creepshow is setting dancefloors and stereos on fire around the globe with their infectious and genuinely unique brand of punk and country-tinged rock'n'roll. Hellish demons, bloodthirsty ghouls and the living dead are all the order of the day when this female-fronted quartet of horror fanatics brings their electrifying and undeniably eye-scorching live spectacle to stages and graveyards alike. Lace up your brogues, tune up your engine and slick back your hair because The Creepshow is coming to your town soon.
With special guests: The Hellbound Hepcats
The Hellbound Hepcats are bringing back the sound of the 1950's with an aggressive, big-beat twist-seamlessly fusing elements of Johnny Burnette, Chuck Berry and Brian Setzer with the pure energy of rockabilly. These hardworking rock'n'rollers combine the rawness and passion of the Sun Studio sessions with a harder, faster, more hip-shaking rhythm that is all their own. The Hellbound Hepcats' music reflects the rebellious spirit of early rock n' roll without imitating it. Their originality adds a much-needed new spin to the current rockabilly scene.
www.hellboundhepcats.com