The Easy Star All-Stars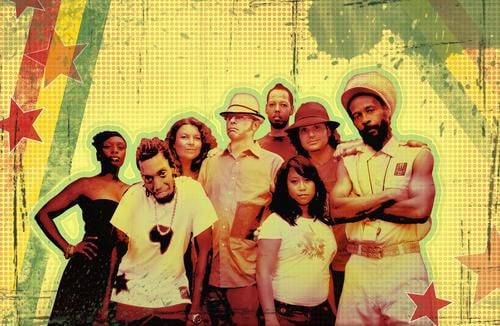 August 31, 2010 @
The Waverley Hotel
Legendary dub ensemble responsible for 'Dub Side of the Moon' and 'Easy Star Lonely Dub Band'.
Combining musical versatility, instrumental prowess, beautiful vocal harmonies and a superb rhythm section, the Easy Star All-Stars have established themselves as one of the top international reggae acts since their live debut in 2003. They rock every crowd they play for, whether it's to thousands at festivals or hundreds at club gigs and private events (like the wedding of NYC Mayor Mike Bloomberg's daughter). Thanks to their best-selling tribute album releases, Dub Side of the Moon (2003) and Radiodread (2006), as well as Until That Day (2008), an original EP, the Easy Star All-Stars have built a growing, dedicated fan base throughout the world, bringing together fans of reggae, classic rock, dub and indie rock into one big family. Their newest release, Easy Star's Lonely Hearts Dub Band, due in April, tackles the Beatles' Sgt. Pepper's Lonely Hearts Club Band in complete reggae fashion.
Originally formed in 1997 for Easy Star Records' earliest recordings, the Easy Star All-Stars existed mostly as a studio entity until releasing Dub Side of the Moon in 2003. The group, which operates as a collective with a rotating cast of musicians and singers, was put together by Easy Star co-founders Michael Goldwasser, Eric Smith and Lem Oppenheimer. These three have directed and managed the band ever since. Goldwasser, as producer, musical director, arranger and guitarist, has been the man behind just about everything the All-Stars have done in the studio and on stage. He's the one who spends months transforming songs by Pink Floyd, Radiohead and the Beatles into reggae tracks. As a producer, he has maintained a delicate balancing act by making albums that rock fans can embrace, without alienating the notoriously demanding hardcore reggae audience. Previous to 2003, the band made regular appearances in New York City, backing reggae legends Sugar Minott and Johnny Osbourne, and providing the live backbone for a celebrated tribute to Augustus Pablo. It wasn't until Dub Side of the Moon's tremendous success that a touring version of the band was assembled.
The other members of the Easy Star All-Stars, past and present, read like a who's who of New York's reggae, ska, dub and jazz scene. The core of the touring band has remained largely intact since 2003: Ras I Ray (bass, vocals), Ive-09 (drums), Kirsty Rock (vocals), Jennifer Hill (saxophone, flute) and Buford O'Sullivan (trombone). Menny More has handled deejay vocals since 2006. The current touring line up is filled out by Elenna Canlas (keyboards, vocals) and Shelton Garner Jr. (guitar, vocals), with either Justin Filmer or Marcos Ferrari handling dub engineering and sound. The band also rotates in Abou Diarrassouba (drums), Matt Bauder (saxophone) and Joanne Williams (vocals), depending on the tour. Other members of the collective—including vocalists Tamar-kali and Stephanie McKay, Groove Collective's Jay Rodriguez, Antibalas's Stuart Bogie, reggae legend Ranking Joe, trumpet player Pam Fleming (of the Burning Brass), deejay Dollarman, guitarist Junior Jazz, and keyboardists Ticklah and Jeremy Mage—all continue to make appearances or toured extensively with the group at one time. Michael Goldwasser still joins for occasional gigs, but spends most of his time in the studio working on the band's musical output and his own outside productions for artists such as MacArthur Genius Grant recipient Corey Harris and Israel's Hatikva 6.
The Easy Star All-Stars—in any combination of members—have been a resounding success. The band has played at major festivals and headlined shows in over 20 countries on 5 continents. Their worldwide album sales have surpassed 250,000 units since 2003, with Dub Side of the Moon spending over 5 years on Billboard's Reggae Chart. MOJO picked Dub Side as the second best cover album of all time. Radiodread spent almost 2 years on Billboard's Reggae Chart and earned praise from the members of Radiohead themselves.
http://www.easystar.com/artists/show/3