The Sorority + Snotty Nose Rez Kids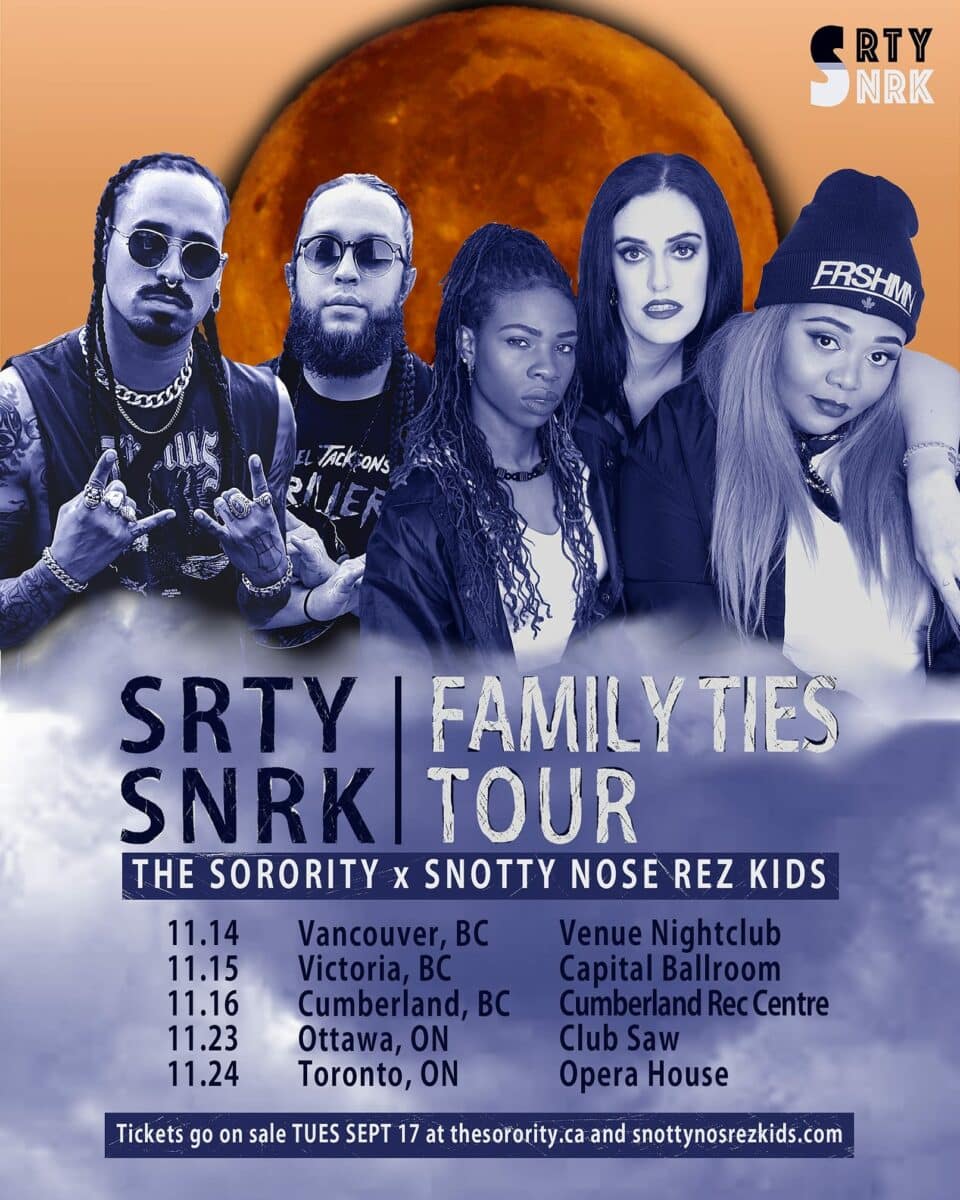 Saturday, November 16, 2019 at Cumberland Recreation Hall (CRI)
Bringing back two heavy hitters from Cumberland Wild, Cumberland Village Works and Mt. Eliah present SRTY + SNRK for an all-ages licensed show at the CRI in Cumberland! This is true hip hop!
LIMITED NUMBER OF $70 VIP MEET & GREET PACKAGES AVAILABLE:
Meet-and-greet package includes
Private viewing of Artist soundcheck
Short Q&A with the Artists
One free piece of merchandise
One photo opportunity with Artists
Custom VIP lanyard
Entry to evening performance
Get Tickets Now
THE SORORITY is the definition of solidarity. Keysha Freshh, Lex Leosis and Haviah Mighty found themselves at a cypher hosted by TeamBackPack in 2016 for International Women's Day. Unknown to each other, the three took turns spitting over what would become one of the biggest cyphers of 2016. Noisey asked, "Have you ever heard someone rap so good you had to close your eyes and ask Our Lord Saviour what you did to deserve this?" Drawing the attention of Fader, Rap Season, Boi-1da.net, Noisey and many Canadian music publications, the four decided to form The Sorority.
They went on to release a reboot of Ladies' Night for its 20th anniversary, dropping a video with an all women cast and production crew on International Women's Day. CBC Arts said, The Sorority "bring the spirit of womanhood to life with their music…[they] manage to not only revive the spirit of hip-hop but also bring back femininity and solidarity amongst women in a historically male-dominated arena." (CBC Arts)
Since then, The Sorority have played a number of festivals including Toronto's Manifesto Festival, the City of Toronto's Canada150 Festival, and Unity Festival and opened for the likes of Majid Jordan, The Internet, Isaiah Rashad, Jidenna, DVSN, Miguel, Joey Bada$$, A-Trak, Snoop Dogg and others.
The Sorority's unique live performance allows for each member to stand out with their own signature flare and style, while also providing the cohesion you would expect from a group.  "This isn't a girls club, a university alliance, a clique or trend. The Sorority is a progressive hip-hop group spitting fierce bars with grace" (BanTor Radio, 2017). Proving themselves to be "dope spitters" (sypher sights), The Sorority's "energy and technical prowess (shine) through over both boom-bap and trap beats…that pull no punches" (Now Magazine).
Mixing the new with the old, the classic with the progressive, with respect for the greats and blazing their own trail, The Sorority, are the ones to watch for in 2019.
As the SNOTTY NOSE REZ KIDS, we speak back to the stereotypes that present us as untamed, ill-mannered and vulgar savages, reclaiming ourselves as the 7th generation on the rise. We tell our stories to show that we may be a little rough around the edges but that roughness makes our lives interesting. We don't carry certain privileges afforded through colonialism -fenced in backyards, green grass suburbia- but we are privileged in other ways. We were privileged to be raised by the ocean with a forest in our back yard. We are rich through learning our traditional way of life while being raised on our ancestors' territory – there is a great deal of wealth in knowing who and where you come from. We were able to learn by doing, to run around the reservation, get stung by devils nettle and not cry over it but wipe our snot on it and keep going.  We learnt about the ocean's depth and the rivers' current. We learned how to survive without actually having to only survive. We ran in packs. We were raised by our parents; we were raised by our community. Our culture is strong and continues to shape us into who we are today. We are storytellers, dancers, singers and artists. We are survivors. Our ancestors live through us and as individuals, we have a platform to communicate this with our community. With whatever lens you see us through, we will always be the snot nosed kids from the rez and that's what makes us beautiful.