Uschi Tala and Selci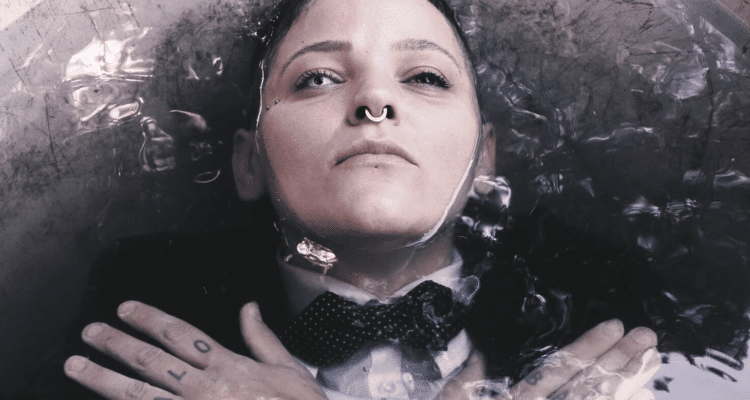 Uschi Tala is a queer gender fluid, multi instrumentalist and live looping artist. With a beat machine and various instruments, they create ambient soundscapes that dance along hauntingly serene vocals and rhythmic rhymes.
Bridging experimental sounds with occult themes, Tala channels the gothic folk of Chelsea Wolfe and the looping energy of Tash Sultana, while taking the audience on a live looping musical sojourn into another dimension.
They have extensively toured the BC festival circuit curat-ing their own niche genre pocket of fans. With Elements of hip hop, ambient experimental and folk noire they speak to the difficult issues in the world, push the boundaries of live electronic, while empowering others to see the radiance in themselves. From touring with artists like Kimmortal, playing sold out shows with FRASE and Moontricks to raise money for the Ymir watershed and opening for acts like Hannah Epperson and IMUR, they are slowly gaining prominence in the BC music scene.
Uschi has released multiple music videos, some of which gained them top ten spots on playlist such and Tinnitest Indie roundup, and The Eh! List – Spotify playlist by Exclaim! Magazine, with many more music videos scheduled for release in the spring of 2022 as a precursor to there spring and summer tours.
Tala released their first studio album titled Between The Veil in 2021 which landed them an exclusive interview with world leading LGBTQ publication XTRA Magazine.
This is the first piece of information the Calgary-based singer-songwriter shares during an interview with Postmedia earlier this week about her new EP, Fallen Woman I. A bit strange, perhaps, but it will probably seem less strange to those familiar with her ambitious, high-concept videos, of which she has made nearly a dozen since 2019.
Selci
Calgary based singer-producer Selci connects the iconoclastic electronics of chamber pop with scintillating dance music to shape her sonic vision. While trained in opera, contemporary and classical musical styles, Selci uses ambience and rhythm to compose sounds that exist on the fringes of pop music.
Her upcoming double album Fallen Woman was co-produced and mixed by grammy award winning engineers Sylvia Massy and Mark Lawson. The record is a celebration of modern relationships and an ode to fallen women of the past. Each track showcases Selci's dynamic vocal range and her broad palette as a producer.
Selci insists this new video, which will accompany the soulful electronic dance tune Luscious Lovin', is simpler than some of her previous efforts. But it's all relative.
"I just wanted to do a little visual for the album release day on March 4," she says. "My partner is a cinematographer and has some nice equipment, so it's just him and I working on this little visual. They'll be a lot of closeups and we're squishing fruit and rubbing berries everywhere … yup …  and flowers in armpits."
Ambitious videos have been a hallmark of Selci's career since before her 2019 debut EP, Effervescence. In late 2021, she directed and released a video for the haunting single Ghost, a multi-character and slightly surreal endeavour that was partly shot in the beautiful Alberta wilderness. Selci set out to recreate paintings from the Romantic era with the video. She borrowed her grandmother's wedding dress in a scene meant to evoke Ophelia. In general, the idea was to fill the video with ornate visuals that reflect Selci's obsession with the Victorian era. It was followed by a video for When I Became A Routine Task, the melancholy opening track on Fallen Woman I. It has a sci-fi feel to it, occasionally recalls the work of filmmaker Terry Gilliam and has the singer taking on the role of a leather-clad mad scientist. While Selci credits the vision of the latter video to director Ian Johnson, both are elaborate and ambitious and clearly labours of love.