Wild T and the Spirit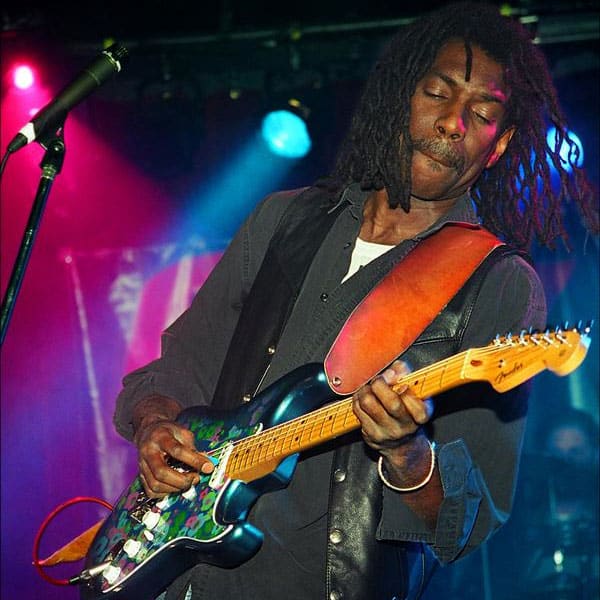 April 17, 2010 @
The Waverley Hotel in Cumberland
blues/rock and soul … touches of Hendrix and Stevie Ray with spellbinding showmanship
"Wild T & The Spirit' (fronted by guitarist Tony 'WildT' Springer), is a powerful blues-rock band based in Toronto, Canada. The band has released 5 Cd's and is currently touring all over Canada and Europe. The band has built up a strong & loyal fan base of musicians and music loving fans over the years with it's powerful live show!
Jeff Healey said, "I followed him around like he was the Messiah…Tony has been my idol for years!"
Originally, the band came together in 1990 with guitarist Tony 'Wild T' Springer, drummer Danny Bilan and bassist Nazem Lakay. The band was signed to Warner Music Canada and released 2 albums (Love Crazy 1991, Givin' Blood 1993). "Givin Blood" was nominated for best hard rock album at the 1994 JUNO (Canada's Grammy) awards. In 1994, 'Wild T & the Spirit' also performed on a 14 city tour across Canada with Bon Jovi on the "Keep The Faith Tour".
During this time, guitarist Springer was also asked to tour & record with David Bowie.
"A absolute delight to work with…a lyrical, lilting take on Hendrix" says David Bowie.
A Springer appears on the CD "Back Tie, White Noise" and performed with Bowie in concert all over the USA.
After the tour with David Bowie, 'Wild T & the Spirit' went on hiatus. Tony then left for Chicago, USA where he continued gigging as a sideman with many great blues bands. One of the highlights during this period, was opening up a string of concerts for "Deep Purple" in places like Detroit, Chicago & New York City.
Tony returned to Toronto and by late 2002, the band 'Wild T & the Spirit' was reformed by Springer and bassist Guenther Kapelle. (Kapelle had spent many years gigging and recording in the Los Angeles music scene and had toured all over Canada, USA and Europe with 'The Blazers' and other top acts). With addition of drummer Brian Lass and veteran Toronto keyboardist Peter Nunn, the group recorded the CD "True Bliss", which was released in Canada, USA and Europe by Bullseye/Taxim Records in 2004.
"Wild T Springer is building a reputation for himself as the next premier guitarist to emerge from the Canadian music scene!" says Tom Richards of the Michigan Blues Society about the "True Bliss" CD.
The band then began a relentless tour schedule of Canada and Europe playing in club venues and at some of the largest festivals. This also included astop at the BBC studios in London, England to performlive on "Paul Jones Blues Show" on BBC Radio 1.
A compilation CD of the first two 'Wild T & the Spirit' albums called "I've Got The Rhythm" was released in 2005.
Springer and his co-horts continue to tour the world in 2010. Landing in Cumberland for the first time at the Waverley, Saturday April 17, this band is sure to drive the dance floor hard. A rare treat not to be missed. For more info visit cumberlandvillageworks.com or call 250 898 1056. Show starts at 9:30 pm. and the cover is only $10.
www.myspace.com/wildtandthespirit