A Tribe Called Red – SOLD OUT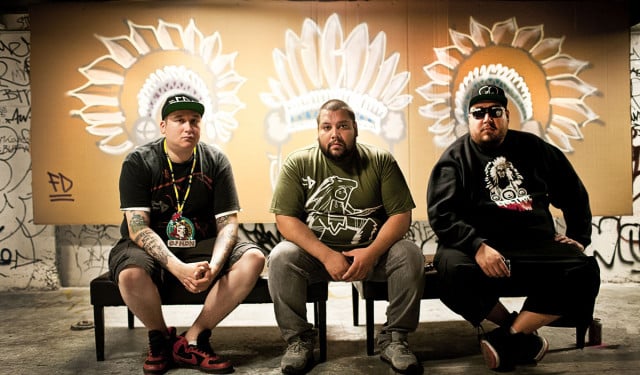 February 27, 2014 @
The Waverley Hotel
The face of Urban Native youth renaissance, proudly championing their heritage and sampling references to Native people which reclaim the Aboriginal image.
Bursting forth from Canada's capital, native Producer/DJ crew A Tribe Called Red is producing a truly unique sound that's impacting the global electronic scene and urban club culture. Since 2010 the group – made up of two-time Canadian DMC Champion DJ Shub, DJ NDN and DJ Bear Witness – has been mixing traditional pow wow vocals and drumming with cutting-edge electronic music. Their self-titled album, released in March 2012, was long-listed for Canada's prestigious Polaris Music Prize and included in the Washington Post's top 10 albums of the year.
Click here to download for free.
In a sense, ATCR's music is the soundtrack to a contemporary evolution of the pow wow: their Electric Pow Wow events in Ottawa showcase native talent and aboriginal culture, alongside an open, wild party. Within a couple of years they've become the face of an urban Native youth renaissance, championing their heritage and speaking out on aboriginal issues, while being on top of popular music, fashion and art. DJ Bear Witness doubles as the crew's visual artist and creates stunning, political and sometimes humorous videos that incorporate film and pop culture references to Native people and reclaim the Aboriginal image. On May 7th, A Tribe Called Red released their second full-length album, Nation II Nation in Canada and in the USA on Tribal Spirit Music. The album was nominated on the shortlist of the Polaris Music Prize as one of the 10 best Canadian album of the year and one 4 APCMAs (Aboriginal Peoples Choice Music Award) for best group, best producer, best album and best cover art. ATCR have also collaborated and produced one of the last known Das Racist song called Indians From All Directions as well as the song A Tribe Called Red on Angel Haze's album Dirty Gold.
https://www.facebook.com/pages/A-Tribe-Called-Red/181642381882640‎