Blue Moon Marquee + The Burying Ground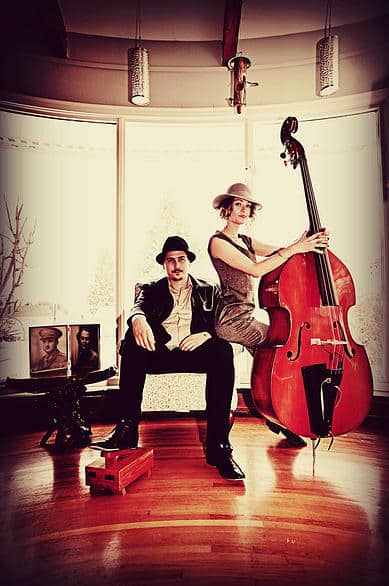 December 11, 2015 @
The Waverley Hotel
These two bands stylishly capture the sounds of early roots and blues.
Blue Moon Marquee
is a Screamin' and Hollerin' Gypsy blues band that stem from the Alta. Dusty Hoodoos and the Rocky Mountains. A.W. Cardinal (vocals/guitar) and Jasmine Colette (vocals, bass, drums) primarily write and perform original compositions. Influenced by anything that swings, jumps or grooves. Artists such as Lonnie Johnson, Blind Willie Jonson, Charley Patton, Howlin' Wolf, Bill Jennings, Big Bill Broonzy, Django Riendhart to name a few.
After living and performing in Montreal and New York City, and being immersed in the jazz and blues scene cutting his teeth, A.W. Cardinal decided it was time to head home the Rocky Mountains and bought a Greyhound ticket as long as he is tall; back to the great Canadian west to record the Album "Stainless Steel Heart." There, In the winter of 2012, A.W. met with Jasmine Colette, a Hoodoo Lady who has toured the bulk of North America over the last six years as a bassist, singer and a hoop dancer, performing with the likes of Paul Pigat, Bill Bourne, Andrew Loog Oldham, Tanya Tagaq, David Gogo, Simon Kendall, Madagascar Slim and Wyckam Porteous. Within two weeks they had recorded an album and ever since then Blue Moon Marquee was formed. BMM tours regularly all around Canada.
To date Blue Moon Marquee have released two full length albums of their original compositions – "Stainless steel heart" (2013) – "Lonesome Ghosts" (2014) – An online E.P. "Last Dollar" was released in 2015. They are set to record their next album during the Winter months, set for a Spring 2016 release.
The Burying Ground
This band is fuelled by guitar, washboard, saw, harmonica and upright bass. Their love of early country, blues, ragtime and jazz has  inspired them to create original songs that emulate old ones as well as to play renditions of songs from the 1920's and 30's.   The sound is authentic and the style timeless.
bluemoonmarquee.com