Bluegrass Brunch w/ Blaine Dunaway & Tracy Riley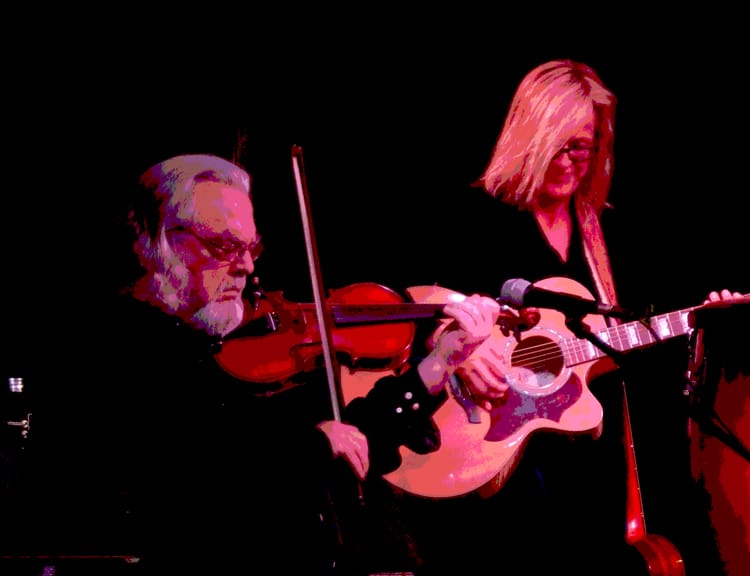 October 5, 2014 @
The Waverley Hotel
This Sunday brunch at the Wave will be featuring Tracy Riley and Blaine Dunaway playing some Jazz, Blues and Country stylings – some familiar to your ears and some fresh out of the oven. The magic from these two musicians comes from the raw joy of playing together. They feed off the unexpected.
Performer, teacher, composer, conductor, Blaine Dunaway
As an improvising violinist and trumpet player, there are dozens of albums with his touch adding to the magic, in many different genres, from jazz to classical to folk to world music to blues to popular. Blaine has worked as a studio recording artist in many studios across the country, and has played in most of the finest Big Bands in Western Canada. He has taught music in public school throughout BC and Manitoba and has taught at the college level in BC and Alberta. Blaine Dunaway, has a B.A. in music, (jazz), from Western Washington University, studied at UBC, U of A in Edmonton, Brandon University, Banff School of Fine Arts, and Bullfrog Recording school.
Tracy Riley – This woman knows how to make magic happen no matter where she plays or what the situation.
Tracy Riley returns to visit the Valley! She  lives on Jolliffe Island, Great Slave Lake in Yellowknife, Northwest Territories, Canada, where she has made her home for over 30 years. Tracy is is a multi-talented musician who plays acoustic guitar, harmonica, hand drums and bass, often in one night. She wows crowds with her rich soulful voice and is a fabulous entertainer. Whether performing an original or her interpretation of a classic 'crowd pleaser', Tracy leaves her trademark charismatic and rhythmic signature all over it. Her off-grid personality and rustic humor are the results of living most of her life on a northern island with no amenities. This woman knows how to make magic happen no matter where she plays or what the situation.
Tracy's roots are folk with overtones of funk, blues and jazz, which she delivers with her unique percussive style. Just imagine a spontaneous kitchen party joined by the likes of Melissa Etheridge, Ellen McIlwaine, Neil Young and James Brown and you can get an idea of what it is like to see and hear Tracy perform. Her audiences are captivated by her energetic passion for music.
Click here
to check out her latest video taken off the floor at Studio Live in Cumberland with special guest Brodie Dawson.
http://www.tracyrileymusic.com