Chali 2na & the House of Vibe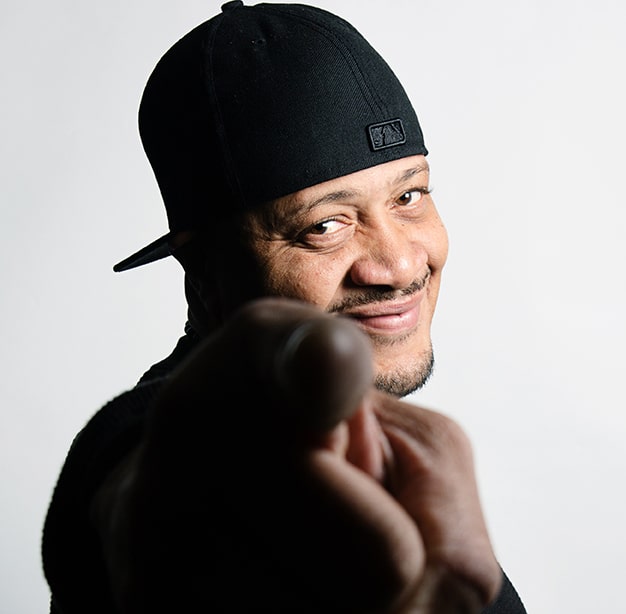 June 29, 2017 @
The Waverley Hotel
The Fish returns! With special guests Liinks.
Chali 2na MC. Musician. Actor. Painter. Renaissance Man. Chali 2na has done it all. From his days growing up on the hardscrabble streets of Chicago's south side, to his subsequent explosion onto Los Angeles' burgeoning hip-hop scene, to his tenure as MC for seminal hip-hop group Jurassic 5, Chali epitomizes the portrait of a 21st century artist.
To be sure, with his unmistakable, beloved baritone, Chali has firmly established himself as one of the most distinctive, charismatic personalities not just in hip-hop, but music in general.
Only a select few can say they've rocked microphones in front of thousands at a sold-out arena in Tokyo with Jurassic 5, spit rhymes at Lollapalooza, painted professional caliber oil color paintings in their California home and lent their distinctive bass-heavy voice, to such mega-brands as Coca Cola and Sega Dreamcast.
Now, buoyed by the wide spectrum of socio-cultural and geographical influences that have shaped him-hip-hop's Renaissance man  his solo album Fish Outta Water on Decon Records tells a larger story.
Indeed, this deeply personal body of work reveals a side of the long time Jurassic 5 and Ozomatli front man that his fans have never seen, a story from start to finish of his life, loves, triumphs and let downs, weaving in a powerful selection of beats from the likes of Scott Storch and Jake 1.
Indeed, Chali's diverse tastes-from the blues he was raised on to the political gangsta' rap he loved to the graffiti art he sprayed as a teenager-flow from this album, like the oil colors Chali uses for his paintings.
Of course, no body of work involving Chali 2na would be complete without his trademark, articulate, spitfire rhymes, the sort of fearsome battle raps which first caught the ear of so many back when he honed his skills in Los Angeles' storied underground hip-hop scene of the early nineties.
"Getting sick of the bickering from my peers and such. Bringing lyrics to keep your ears in touch," he rhymes, daring anyone to test his mettle while playfully requesting that you too take your body to the dance floor in the same breath.
Indeed, Chali features a seemingly endless litany of groundbreaking tracks, which touch on topics the veteran musician has never bared to his listeners before. Whether it's the trauma he experienced from the shooting death of a childhood friend to the twists and turns of his own family lineage, to the resistance to injustice that has always been imbued in Chali's music is quite simply, a life's worth of songs in the making.
Showcasing the live element of Chali 2na, The House of Vibe will fill the Waverley stage with drums, keyboards and bass.  Chali's show Feb. 22, 2012  was one of the most inspiring nights we have had at the Waverley.  So stoked that the Fish is back!
With special guests: Liinks. Click here to listen.
LIINKS is a Victoria BC born collaboration between vocalist/writer Georgia Murray and producer/DJ DWhiz. Prior to making it official and becoming LIINKS, the two had co-written a #1 hit song in South Korea (their song was actually stolen by Korea's most popular artist at the time and reached #1 for 3 weeks until the scandal went public), received a nomination for 'Urban Recording of the Year' at the Western Canadian Music Awards, opened for Macy Gray, KRS One, Gramatik and Talib Kweli and Georgia Murray performed at California's first WE DAY event alongside J.Cole and Big Sean. They were also chosen to be on CBC's nationally televised show Cover Me Canada and were in the Top 20 of The Peak radio station's Peak Performance Project in 2012.
You could say their hybrid sound was gaining international attention long before the two put a stamp on it. Georgia Murray's haunting vocals project a delicate image of soul music smattered with the eerie sensibility of classic trip-hop. Backed by cinematic beat-scapes created by DWhiz, the LIINKS sound is dark soul/electronic with an organic quality.
chali2na.com