Current Swell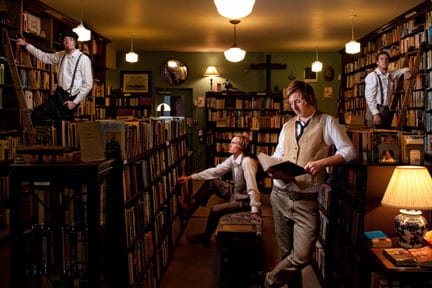 January 25, 2013 @
The Sid Williams Theatre
Currently breaking down international boundaries, Current Swell is clearly a rising star on the North American roots/surf rock music scene.
The members of Current Swell no longer live together under a single roof — as they did years ago, when the group first came together as a unit — but the bond between the four friends is stronger than ever.
Touring the world for the better part of five years, from Brazil to Australia, often has that effect.
Current Swell's years of experience on the road can be heard — and felt — in the nooks and crannies of Long Time Ago, the new full-length from this rootsy Victoria, B.C. quartet. The record shifts between upbeat folk (the title track, Long Time Ago) and singalong-ready roots rock (the first single, Too Cold) with a fluidity and ease that could only come from continual touring.
The band originally wanted to call its fourth record People Not Places, as if to signify its new lyrical direction. "We used to write about traveling, because that's all we did for a while," says singer-guitarist Scott Stanton. "But on this record, we wrote mostly about people in our lives."
Friends, acquaintances — even strangers — have been an integral aspect of Current Swell's personal and professional development. Decidedly grass-roots, the band has developed a strong online following over the years, dating back to the independent release and promotion of its previous recordings, So I Say (2005), Trust Us Now (2007), and Protect Your Own (2009).
Fans have remained steadfast in their support, something the members of Current Swell do not take for granted. When the band earned first place at Vancouver's Peak Performance Project (a 2011 radio contest which awarded the group $100,500 for top prize), the first people on Current Swell's thank-you list were their fans.
Despite years of careful planning and intuitive, thoughtful decisions, some things remain beyond Current Swell's control. Case in point: Brazil.
Through a mixture of circumstance and happenstance, the members of Current Swell are now the beneficiaries of a large and loyal following in Brazil, the largest country in South America. The group has just returned from a tour of the country, a trek which saw Current Swell headline two large festivals in Rio de Janeiro and São Paulo, among the largest cities in the world.
Current Swell plans to return to Brazil at its earliest convenience — not for money, or fame, or opportunity. If anything, they want to do it for their fans.
That has become Current Swell's trademark, in a sense. And with the release of Long Time Ago, the group has a new reason to get back out on the road again.
http://www.sidwilliamstheatre.com/tickets/