D.O.A. returns to the Waverley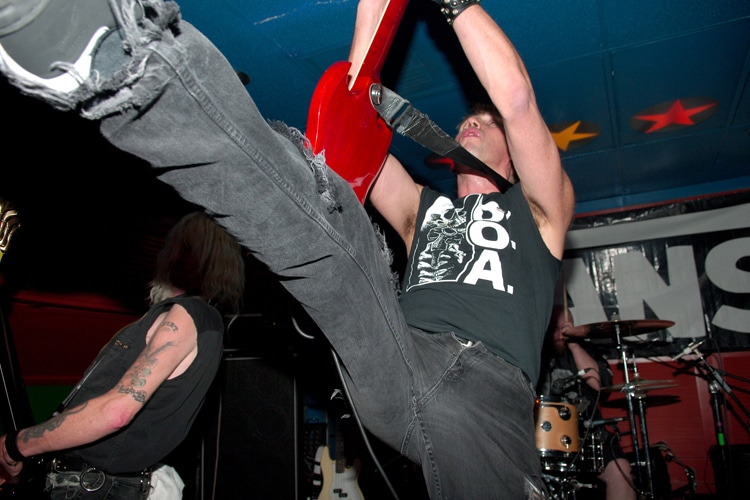 January 21, 2012 @
The Waverley Hotel, Cumberland, B.C.
The Godfather of punk hardcore returns to the Waverley!
D.O.A., Canada's top punk rock band, release their 12th studio album Northern Avenger on Sudden Death Records. Early reviews of Northern Avenger are drawing comparisons to D.O.A.'s incredible first two albums: "Something Better Change" and "Hardcore 81".
Produced by the legendary Bob Rock (Mettalica, Offspring, Pointed Sticks, Motley Crue, Young Canadians) the band have really put it into high gear in time for their 30th anniversary.
Led by Canada's godfather of punk, Joe Shithead Keithley on guitar and vocals, Northern Avenger is punk rock the way it was meant to be. D.O.A. also rock the ska beat and nail you with no holds barred intense riffs, that drive you wild and make you think at the same time, a rare feat these days.
The album kicks off with the forceful, threatening and anthemic Human Bomb. Then they nail you with their ode to California: Golden State. They follow that up with Devil's Speedway, which just might have the power to make Dale Earnhardt rise up from the dead.
With D.O.A. you always expect humor and politics, and there's no shortage on Northern Avenger. Donnybrook, is a tale of hockey savagery that easily rivals the Hanson Brothers and Olgie Oglethorpe. For politics, listen to the intensity of Police Brutality, Set Them Free and Last Chance. Joe also sings about street life in Vancouver's notorious and tragic Downtown Eastside on Poor Poor Boy.
Northern Avenger harks back to early classic days of D.O.A. To get the heaviest recording possible, Joe contacted his old pal Bob Rock, who had helped out with recording D.O.A.'s 1st two singles. After all who better to make one of the world's heaviest bands sound even heavier.
With this album you can hear why D.O.A. has influenced three generations of musicians, from Green Day to Rancid to Red Hot Chilli Peppers to Offspring to Henry Rollins…. The list goes on.
Don't miss Joey and the boys delivering their legendary high octane hardcore up in Cumberland.
With special guests Greenback High.
www.myspace.com/doapunk