D.O.A.'s Farewell Tour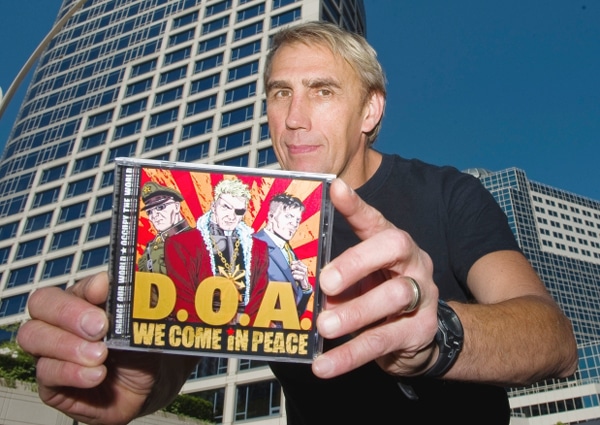 January 24, 2013 @
The Waverley Hotel
No stranger to Cumberland, Joey Shithead brings his legendary band to this town for the last time.
Inspired by Woody Guthrie, Canada's godfather of punk, Joe Keithley has always been out to change the world, through almost 35 years of D.O.A., he and the band have taken on all brands of oppressors. Now Joe is trying to do it from inside the system, he is seeking the New Democratic Party (NDP) nomination in the British Columbia riding of Coquitlam – Burke Mountain.
Meanwhile, D.O.A. celebrates 35 years with the release of their long awaited 14th studio album We Come In Peace and a 20 date tour across Canada starting on October 10. This is not the end for D.O.A., but these will likely be the last dates for four to eight years and who knows, maybe forever. We Come In Peace has all the firepower, politics and humor that are the cornerstones of any great D.O.A. album with special guest vocal appearances by Hugh Dillon (Headstones), Jello Biafra and Ben Kowalewicz (Billy Talent).
We Come In Peace' is as much a declaration of D.O.A.'s mission on this, the band's 14th studio album of all-new material, as it is a way to identify this collection of songs by serving as the album's title. Always a fiercely political band, D.O.A. have upped the ante here by jumping headfirst into the fray of the messy and chaotic shit-storm that is today's less-than-stable worldwide political environment, tackling the financial crisis, the Occupy movement, shady dealings by top officials, systemic bigotry, and other important issues – both those that have been ripped from the headlines and those that have been culled from buried stories and the underground press."
D.O.A. will be joined by American Supine. A strong and handsome indie band from Cumberland, BC, Gemma Goletski, Madison Mayhew and Lewis Dick Wilson.  These guys wowed Joey at a recent "War of Rock" contest in Vancouver and he had to have them play this show!
https://www.facebook.com/americansupine