Daniel Wesley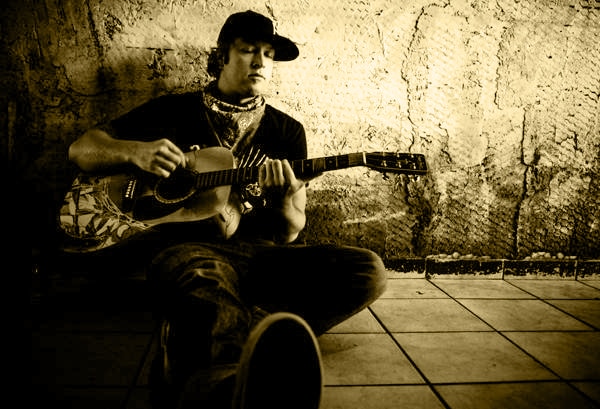 March 5, 2011 @
The Bridge Lounge, Courtenay
He's rocked the Big Time out, the Big Day Up and sold out venues all over Vancouver Island. Don't miss Daniel's first play in Courtenay, BC.
In the winter of 2008, for two night's running, Daniel Wesley mounted the stage before a sold out crowd at Vancouver's 1000 capacity Commodore Ballroom. The venerable concert hall has seen its share of local artists, but Wesley's extraordinary two-night stand was something different; a grass roots event without precedent, based on the cyclonic success of an independently produced, windswept reggae-bomb called "Ooo Ohh".
As a constitutionally unpretentious man, Wesley claims that "it's kinda weird talking deep about songs you wrote, because they're just songs. People can and should take them for what they are…," but there is, of course, more to it than that. It's worth remembering that beneath its face-hugging hookiness, "Ooo Ohh" was a song about sexual abuse, while Wesley cops to an ongoing theme of escape in his music. If pressed further, he'll open up about the fear and loathing that informs the remarkable "Pilgrimage", with its take on the gang wars that have turned Wesley's hometown into a shooting gallery. "What's happening today," he says, "it weighs heavy on some people. The last six or seven months have been pretty scary around here. 'Pilgrimage' is a pretty big statement that I wasn't trying to make, but the song makes it. And I think it can pertain to anywhere in the world, where those kinds of things are happening."
On a strictly musical scale, "Pilgrimage" might be the most darkly expressive three minutes Wesley has yet committed to tape, with a universe of suggestion between its disco vibe, fuzzy riff, and a general increase in pace that eventually drops the listener into an evocative middle eight unlike anything else in the Wesley songbook.
It's the perfect bookend to "Drunk and Stoned", and gives shape to the overall sense that this third, self-titled album is designed to open new vistas for a talent that's only just beginning to find itself. Fittingly, and like any natural born music-maker, Wesley appears to treat life and work as an indivisible thing, subject to the same rules, and the same core philosophy.
With special guest Jackie Valentine and Valley opening our night. Jackie Valentine hits the stage at 10pm, Valley at 1045.
http://www.604records.com/home/artists/jackie-valentine
http://www.reverbnation.com/valleysounds