Delhi 2 Dublin Live at the Bridge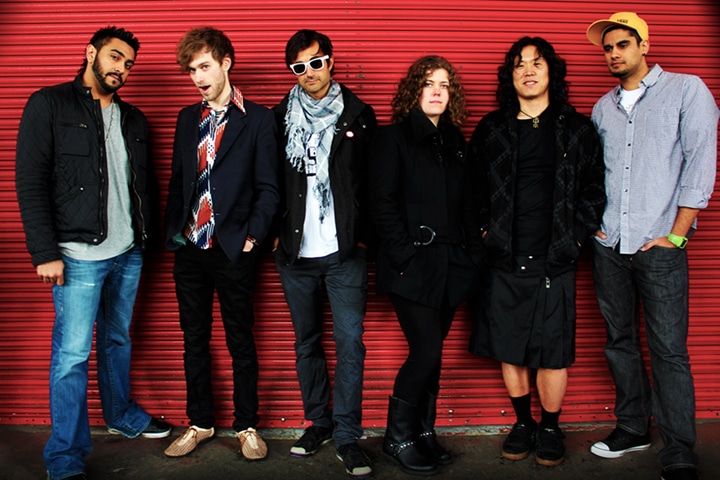 May 27, 2011 @
The Bridge Lounge, Courtenay
Wildly popular dance floor mashup which includes celtic/bhangra/electronica and beyond! w/special guests Blue Lotus Dancers and Fiftieth Parallel
Delhi 2 Dublin will be joined Fiftieth Parallel (winners of the Audioclash) and Blue Lotus dance troupe from Denman Island!
Delhi 2 Dublin is a group of six musicians who mashup electronica with world music, keeping it heavy on the Bhangra and Celtic flavours. Fusing tabla, fiddle, dhol, electric sitar, and Punjabi and English vocals with scorching electronic beats, Delhi 2 Dublin takes listeners on a wild ride through global sounds and synchronicities.
Their unique style of live electronica is the ultimate transcultural music experience. It is the sound for today's Globalista. Originally formed for a one-shot performance during Vancouver's Celtic Fest in March of 2006, word of the band's foot stomping, high energy live set started to spread, and the project soon took on a life of its own. Since then, D2D has been busy playing in BC, Ontario, and the West Coast of the US. Their diligent touring ethic and their quest to take over the world one dance floor at a time has led to a cult following in many of the communities they've visited. Delhi 2 Dublin has played some of Canada's largest festivals, including the Vancouver Folk Music Festival, Shambhala, Salmon Arm Roots and Blues and of course our own Big Time Out. In 2007, they were invited to Ottawa to open the massive Canada Day celebrations on Parliament Hill for 40,000 people.
More recently they've been in demand south of the border, showcasing at South By Southwest (TX) and garnering invites to Stern Grove in San Francisco, Earthdance (CA), the High Sierra Music Festival (CA), and Bumbershoot (WA). Besides making great music, these musicians are almost more famously known for their incredibly high-energy stage performance which could be described as a human fireworks show! To date, they've shared the bill with luminaries such as De La Soul, Cheb i Sabbah, K'Naan, Sarah McLachlan, Malkit Singh, Metric, Swami, and Feist.
Also driving the dance floor with infectious border bashing beats is Pleena. She has also played the Big Time Out and the best venues throughout the Comox Valley. This is the first time this wildly popular show lands in Courtenay on the dance floor everyone is talking about. Don't miss!
http://cathystoykodance.blogspot.com/
https://www.facebook.com/djpleena
http://www.myspace.com/delhi2dublin