Delhi 2 Dublin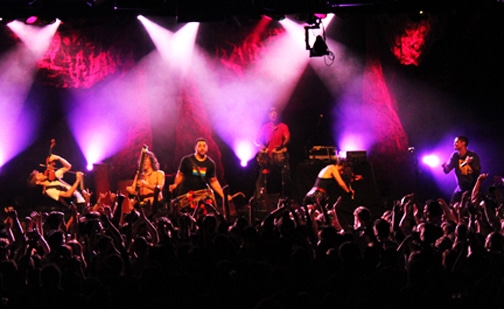 March 2, 2012 @
The Waverley Hotel
Help us welcome back D2D to the Waverley Hotel
Hour Magazine wrote that "Delhi 2 Dublin is the United Nations of rock 'n' roll". They are a Vancouver, Canada based band that plays an energetic mash-up of Bhangra, Celtic, Dub Reggae and Electronica with global rhythms and club beats. Tarun Nayar, Sanjay Seran, Andrew Kim and Ravi Binning along with touring members Jaron Freeman-Fox and Sara Fitzpatrick are diverse in both their backgrounds and musical influences. The band has been together over five years and has released four albums including its latest, Planet: Electrified. The album title is apt because the musicians feel that they plug directly into the world's music and energy.
A live collaboration put together in 2006 as a one-off performance piece for a club night in Vancouver called "Delhi to Dublin" was so well-received that requests for additional performances led to the official formation of Delhi 2 Dublin. "Not being able to fit into any specific genre allows the band to create whatever we like and not be judged for it. Our audience expects nothing less" says Nayar. The band finds this advantageous for their live show as it enables them to create a flow to their sets much like a DJ would for the dance floor. "Audiences love to see a band transcending stereotypes and letting the music speak for itself".
The Delhi 2 Dublin crew is constantly touring. The strong word-of-mouth on their live performances has enabled them to build a loyal and continent wide fan base. The band has played several of the top festivals in Canada and the U.S. and, in 2011, expanded its horizons to include performances in Asia and Europe. A new line-up, a new album and new international touring opportunities all signal that originality and evolution are all part of the Delhi 2 Dublin experience. They have become one of Canada's most buzzed-about bands and 2012 will only see them enhancing that reputation.
delhi2dublin.com