DUB FX & Flower Fairy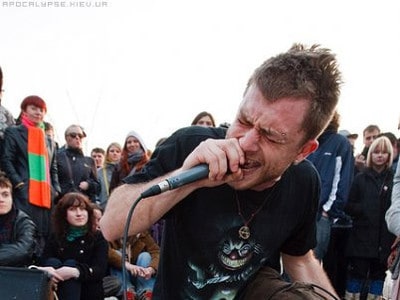 August 15, 2012 @
The Bridge Lounge, Courtenay BC
Dub FX and Flower Fairy blew us all away at 2011 Big Time Out on Ashberry Farm. Do not miss this epic return as we warm up for this year's Big Time Out!
Dub FX uses a Boss RC-50 Loop Station along with a GT-10 effects pedal to create vocal-only beats, and then sings & raps over the top. His music is infused with drum and bass, hip-hop and dub step influences and has the power to turn heads of all backgrounds across the world with his prolific street based performances.
Dub Fx (Benjamin Stanford) is a worldwide street performer and studio recording artist from St Kilda, Melbourne, Australia. After playing and singing in a band called Twitch & N.O.N with CAde since they were 15, he struck out solo when he moved to Europe. His trademark is creating rich live music using only his own performance aided by Live looping and effect pedals combined with his voice.
Stanford travels and performs with his fiancée Flower Fairy (real name Shoshana Sadia) whom he met in Manchester UK. Flower Fairy can usually be seen selling CDs during Dub Fx's performances and also performs alongside Stanford. She is featured singing in the songs on Everythinks A Ripple, Wandering Love, and Time Will Tell. Flower Fairy released a CD "Nursery Gryme" produced by Dub Fx aimed towards children. Dub has released 2 Live CDs, 1 is an ultra rare burnt CD of random recordings from street performances the second is "Live in the Street" the Cardboard slip which is still available on convoyunltd.com.
Everythinks A Ripple is Dub's studio album released in late 2009 which has the songs Love Someone & Flow, two songs made popular through Ben Dowden a Bristol film maker who captured the live performances and posted them on youtube. In 2010 Dub FX collaborated with Melbourne based producer Sirius and released the album titled: Dub FX and Sirius A Crossworlds. Dub Fx and Sirius came to collaborate as old friends who have a mutual love for producing Bass Orientated Music.. 2011 will see the release of a new solo album, Everythanks A Ripple (Remix Album), collaborations with producers & lots of secret surprise things.
With special guests Snareophobe. Snareophobe are a forward thinking live/production duo from the UK, brought together in 2009 by their intrinsic love for bass music. Since then they have built a reputation as an act that never fails to blow up a crowd with their high energy live sets. Taking influences from Jungle, Hiphop, Garage, Breakbeat, Dubstep and Drum & Bass, they mix up heavyweight bass lines, samples, loops, FX and mash up their own tracks over 4 channels, remixing on the fly. Often joined on stage by Dub Fx, Lil Rhys & Mr Woodnote; layers of twisted, electronic music & vocal effects come as standard!
Brought to you by SkyRocket Entertainment and exclaim! magazine.
http://www.snareophobe.com/