Five Alarm Funk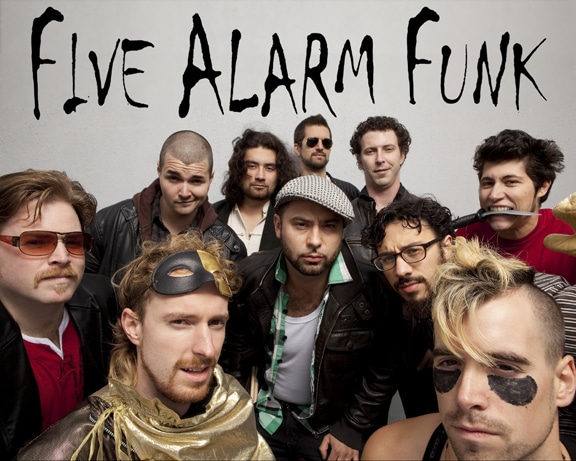 June 24, 2011 @
The Bridge Lounge, Courtenay
Even long after you're finished listening, you'll still be shaking. Like an addict in withdrawal.
Five Alarm Funk is a horn powered, percussion fuelled sonic and visual assault. For more than six years the band has brought their relentless and unforgettable live show to clubs and major festivals across Canada and the United States.
The band on stage is an unstoppable orgy of energy. Ten musicians perform intricate and airtight arrangements with delirious dance moves and full on headbanging. Choreographed arm movements coincide with melodic climaxes while the four percussionists create a true spectacle.
Five Alarm Funk's third studio album Anything is Possible was released July 2010. The genre-spanning, groove-straddling opus reveals 14 tunes of unbridled energy. The first track, Infernal Monologue, begins with an angelic children's choir before quickly moving into classically inspired heavy prog-rock. From there the party gets started with some straight-ahead funk on Zenith Escalator before turning to driving world-rhythms and burning middle-eastern inspired horn lines on Titan. Influences as diverse as Frank Zappa, Yes, J.S. Bach and Antibalas all make an appearance before Anything is Possible is finished.
Sharing the bill Five Alarm is Doug Deep. He is also a featured performer at the Vancouver Island Music Conference in the valley that week. This night of music is not to be missed.
Spinning the turntables for the evening will be JPrime. Check out a little sampler at
http://www.myspace.com/fivealarmfunkmusic