Funk the Halls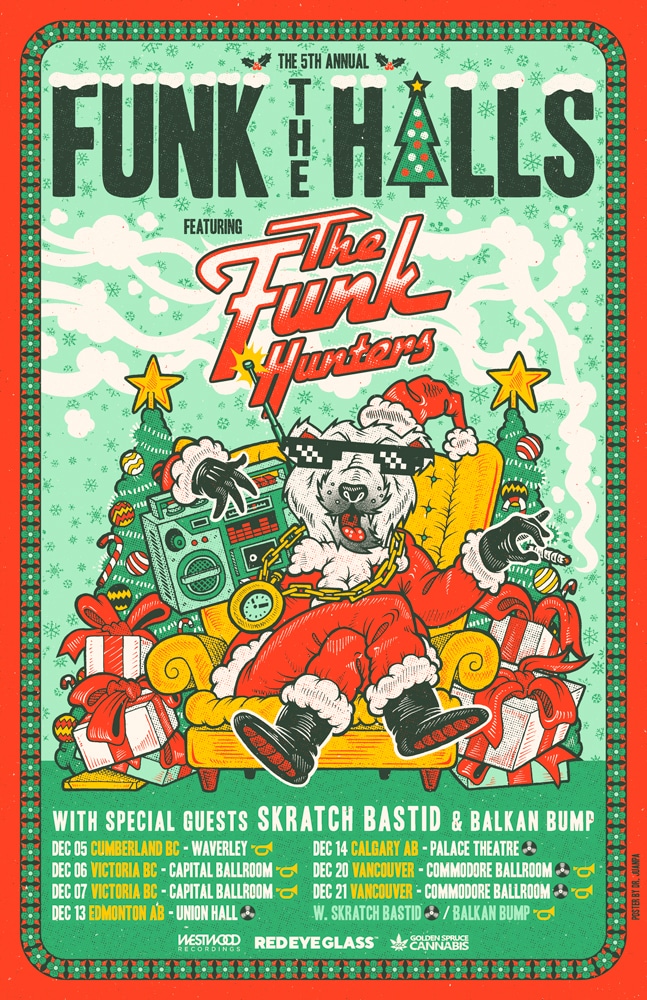 Thursday, December 5, 2019 @ The Waverley Hotel
The annual holiday tradition of Funk the Halls returns to Cumberland this December with The Funk Hunters and special guest, Balkan Bump
Get Tickets Now
THE FUNK HUNTERS: In a sea of carbon-copy producers, The Funk Hunters have cultivated their signature sound by creating forward-thinking electronic music that is influenced by old school funk, soul and hip-hop.
As longtime friends, collaborators, and multi-dimensional artists, Nick Middleton and Duncan Smith's chemistry is perfectly aligned. Middleton steers the band's studio efforts, having produced, co-written, and mixed their debut album, TYPECAST. And Smith anchors the project's live show with an indefatigable charisma that compliments Middleton's thoughtful production. Together they combine their powers as DJs, resulting in a brilliant technical display of creative collaboration between 4 turntables.
Their vision has resonated with both listeners and industry tastemakers alike, with their music amassing over 10 million track streams across their catalog of original productions, remixes and collaborations. Winners of the Electronic/Dance Artist of the Year at the Western Canadian Music Awards, The Funk Hunters also reached #1 on the Billboard Dance Club Chart last year, with an official remix of U2's "Love Is Bigger." Their catalog also includes other official remixes for Big Gigantic, Gramatik, Selena Gomez, and Imagine Dragons.
In addition to studio work, The Funk Hunters enjoy a vibrant global touring career with major festival plays at Coachella, Life Is Beautiful, Lightning in a Bottle, Electric Forest, Osheaga, Outside Lands, Burning Man, and Shambhala. They consistently play to the biggest dance floors in the world – frequent collaborator Chali 2na of Jurassic 5 fame has called them "the selectah's of the century."
BALKAN BUMP is the newest project from trumpet player, producer and ethnomusicologist Will Magid.
Balkan Bump launched to an unexpecting audience in late 2017 with his debut track "Aymo" alongside superstar collaborators Gramatik and Talib Kweli. Finding an affinity based in his own Balkan roots, Gramatik has championed the new project; debuting Balkan Bump's first live performance at Gramatik's anticipated NYE show at Terminal 5; taking Balkan Bump's live show on the road for the Spring 2018 Re:Coil tour; and releasing Balkan Bump's debut EP via his Lowtemp label imprint.
Musically, Balkan Bump is a fusion of live instruments, world influences and lush electronic production. His debut EP flaunts experience as an instrumentalist and arranger, fusing energetic Balkan brass with heavy electronic production and hip-hop/trap influences. This thrilling blend of live brass and electronic production carries over to Balkan Bump's live show, as he joined Gramatik to unveil his horn-infused live set to a North American audience in Spring 2018. The rest of 2018 continued Balkan Bump's touring success, with multiple festival appearances, two appearances at the famed Red Rocks Amphitheatre, and tour dates alongside CloZee, Beats Antique and Russ Liquid.