Geoff Berner : A Foggy Mountain Warm Up Party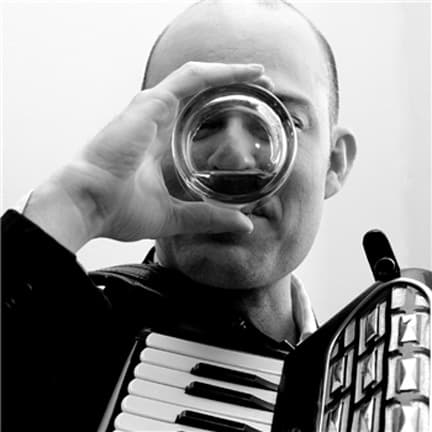 October 5, 2012 @
The Waverley Hotel, Cumberland
Warm up for the Cumberland Museum "Foggy Mountain Fall Fair". Original klezmer music that's dirty, drunk, political and passionate.
takes place on October 5th & 6th and is free to attend, with entry fees for some competitions. Join Cumberland for our Foggy Mountain Fall Fair! Enter the famous Cumberland Pie of Year Contest for fame and fortune!
Take part in apple sports and crafts and press your apples on the old fashioned apple press, butter making, harvest foods, workshops, walking and biking tours, live music art, craft and food vendors, community exhibits, vegetable races, zucchini BINGO, Bear Aware and Bear Appreciation events all day long. Come and experience an old fashioned fall fair – in a mountain Village!
This is Vancouver's Geoff Berner, whose Mint Records debut, Victory Party, emerged on March 8th, 2011. Victory Party won the Canadian Folk Music Award for 2011, in the "Pushing the Boundaries" category. "Pushing the Boundaries" is a good description of Berner's sometimes dirty, often political approach to traditional Jewish music
Geoff's openness to experimentation, spirited Eastern European klezmer influences, punk rock attitude and work with producer/mastermind Josh Dolgin (aka Socalled) resulted in an innovative, engaging and agressive album full of surprises.
What's really remarkable is that they are among the first true new klezmorim in 70 years. Since the 1970s, klezmer revivalists have always come to the music from other styles. Benjy and Michael learned to play their instruments by learning klezmer. That really hasn't happened since before the Holocaust. They represent the flowering of a reborn radical Jewish culture, what Berner's tourmate Daniel Kahn of Berlin band The Painted Bird calls the "Klezmer Bund".
Radical Jewish musicians in the Klezmer Bund movement are trying put out a vision of Jewish culture that's the opposite of the rightwing conservative, knee-jerk pro-Israel, judgmental bullshit that's emerged in recent decades.
That vision is evident at Berner's live shows, which tend to devolve into crazed, chaotic, drunken dancing and psychotic laughter. He has built a sizable cult following through extensive touring, and audiences of odd, bookish people who like to drink come out to pack bars in Berlin, Amsterdam, Oslo and Zurich, as well as in Canada.
http://music.cbc.ca/#/artists/Geoff-Berner